Brain teasers and Mind Reader party games are great! They can be used for family reunions to draw people together. Brain Teasers make great ice breaker activities because they get everyone working and talking together to come up with a solution.
Our family has several brain teaser games and activities that we can get together on a moments notice. If we have some down time and need to find something to do we pull one of our favorite brain teasers out of the hat and immediately have a fun activity for those that want to participate. It doesn't take long before some of us are pulling out our hair in frustration and others are laughing hysterically from the sidelines. Here's a few of our favorite brain teasers and mind reading games and activities.
Spoon Pictures Game

At least two people will need to know how to play this game. One is sent out of the room (the mind reader), and the other remains inside to take a picture of someone. This is done by holding up a spoon or some polished surface to a player's face. When the picture is taken, the mind reader is called in, given the spoon, told to look at it, and guess whose picture it is. The mind reader studies the spoon and then says whose picture they see on the spoon. The mind reader leaves the room again, while another picture is taken, is called in, and guesses that, and so on.
If any family member thinks he can be the mind reader, he may have a trial, but he may fail.
The secret- the person that took the pictures sits in exactly the same position as the person whose picture was taken. If his feet were crossed and his hands folded, the leader will take that position. If another person is in that position, the one who guesses waits until one makes a change, and thus the name can be guessed.
Chinese Silverware Reading Game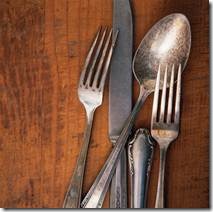 Drop a pile of table knifes, or forks or spoons and it writes someone's name. So your partner goes out of the room. Everyone in the room picks a person to be "IT" You then arrange the utensils in some random supposedly meaningful way. Partner walks back in looks intently at the utensils and then pronounces whose name they spell. What they are really watching is the way you are sitting because you are imitating the person who's IT. (You could use any thing as your props- sticks, matches etc.)
Crystal Clear Game
This is a fun brain teaser game to do right before dinner, perhaps while everyone is waiting in line to get their food. (They can think about the game as they move through the line.) Line six glasses up in a row. The odd ones are full, the even ones are empty. The object is to move only one glass, and by so doing line up three full glasses next to three empty glasses.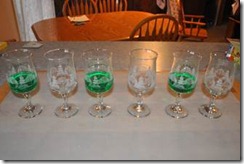 Answer- Pour the contents of glass number five into glass number two and replace glass number five.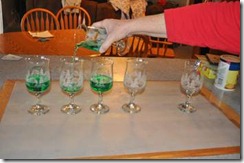 Aunt Mo shares more Brain Teasers and Mind Reading games in her latest blog at www.familyreunionhelper.com including the "Scissors" and "Magic Squares" game.