Organizing Your Coupons!
Now that you know how to obtain a nice collection of coupons, it is very important to come up with a system on how to organize your coupons. Even the best intentions of being more frugal and saving a lot of money at the grocery store will fail if you don't have a sense of organization. I would say that
"ORGANIZATION" is the number one step in success on your road to "Frugal Living".

How you will organize your coupons is a very personal decision, because what works for one, may or may not be the most efficient way for another. I have found the best way to organize my coupons is by putting them in "trading card sheet protectors". I use two different sizes. One is a 9 pocket, which is the traditional trading card protectors, and the other is a four pocket. I use the 9 pocket for the smaller coupons, and the 4 pocket for the larger ones. Both were bought through Ebay, because they were too expensive to buy them at Staples. Though, Staples does sell them.
Here is a picture of my binder with the coupons in the trading card sheet protectors.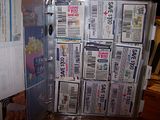 I use dividers to divide my coupons by categories. Such as: Dairy, Bread, Baked Goods, Snacks, etc. What is nice about the clear protectors is you can easily see the expiration dates. So when it comes time to pulling your expired coupons, you can see at a glance if they have expired or not. I have two binders. One for household items such as paper products, dental, deodorant, shampoo etc , and one for food. It is more manageable this way since I have so many coupons, because one binder would become too heavy!!
Now this is what works for me. There are other very successful ways of organizing your coupons. You could buy a plastic container with a lid the size of a shoe box. Walmart sells these. Label envelopes by categories and put them in the box. This is how I first started out, but as my coupon collection grew, it was taking me too long to thumb through each category to find the coupons I wanted. But, it worked very well for a very long time. Another way to organize your coupons is with an expandable coupon holder. These work very well, but once again, I think once you get too many coupons you will grow out of this. You can become very creative with the ways you can organize your coupons. As a matter of fact, it can be a lot of fun!!
I will be honest with you. It will take some time to set up your filing system the first time you do it. Each time I graduated to a new filing system, it took me some time to set it up to the point that I was happy with it. Have fun with it, and don't look at it as a laborious chore. Maybe you can get together with a friend and have tea! If you take the time in the beginning to set up your coupon filing system the way you like, it will re-pay you over and over. It is a great feeling to know where all your coupons are at any given moment.
Once your filing system is set up, you are ready to maintain and ad to your collection.
Here is a guideline I use for maintaining and adding to my coupon filing system. Once again, this is a guide and you may find a more efficient way of doing it. This is what I have found works best.
Adding to my coupons!

Each week I buy three Sunday Papers. I pull the inserts, cut the coupons I know I will use and file them. The rest of the coupon inserts are dated and put into a pocket file for future use. (The reason I don't cut all my coupons is that I may only want to use a coupon if it will be free or pennies on the dollar.) So why take the time to cut and file them. By putting my coupon inserts in folders by date, I can easily find any coupon if an item on sale were to become free or pennies on the dollar. As you have seen, when I make my sale/coupon match-ups, I always put the month and date the coupon came out. So it is very easy to just go to the right folder and pull your coupon.
I also go to my coupon widget on my blog, about every three days, and check for any new coupons that have been released. If there is a coupon I like, I print two copies, clip, and file them. At the beginning of each month there are a lot of new coupons, so this takes a little more time than just filing one or two a day, but it is still manageable. When printing coupons try and file them right away. There is nothing more frustrating than to print a coupon and forget to bring it to the store. You will not save any money by having coupons sit on your desk!!! Also, check my "Printable Coupon" section for more great coupons. Follow the same steps as I mention for printing coupons from my coupon widget.
You should also print out any coupons I happen to give you a link to right away, as to not forget to print them. I usually link on average about 3-4 new coupons a day. If you do a little a day, it never piles up to a big mess.
I also suggest you try ordering some coupons from coupon clipping services. This will increase your savings quite a bit. I have a few listed on my blog under, "Coupon Clipping Services". These come already clipped, so when they arrive, you just need to put them in your binder or envelopes.
Maintaining My Coupons!

On the third week of every month, take about a half an hour to sit and thumb through your coupons, pulling any that are about to expire at the end of the month, that you want to make sure you use. If you don't check your coupons before the end of the month, you may miss out on using a coupon you really wanted to use. An example of this would be a coupon for a free item. It is very disappointing to wait until the month is over to discover an un-used coupon that would have bought you an item for nothing! "I've done this"! It is very sad.
When the month is over, go through all the sections of your coupon filing system and purge out all the out-dated coupons. This will keep your filing system in order and up-to-date.
Pulling coupons for sales!

Each week I make my list for the stores I shop at using my sale fliers and my coupon/sale match-ups. Each list has an envelope attached to it with a paper clip that has all the coupons I need for that store's list. This way when I go to the store, I have each coupon needed along with my shopping list. ***NOTE: I also bring my other binders in-case of an un-advertised sale or manager's special. I suggest you always bring all your coupons even if you leave them in the car.
At the end of the week, clean out your sale envelopes filing any un-used coupons back into your coupon filing system.
Now your ready for the next week! I do my best at saving money when my coupons are organized.
The most common question I get when teaching classes is, "How long does it take you to use coupons every week"! Well, my answer to that is about two-three hours a week. When you consider I usually save about 80% off my shopping bill it pays to take the three hours a week to do it. On average I will save about $50-$100 in coupons a week between the grocery and drug stores. If you divide that by 3 hours, I have paid myself very well! I wouldn't be able to find a part time job making that kind of money in the privacy of my home.