Majority of us know Dubai for its obvious attractions and legendary sights like Burj Khalifa, Burj Al Arab, Burj Al Arab etc, but this Arabian land is much more than that. It also offers a variety of amazing options for your kids of all age groups. If you're still doubtful, just check out this comprehensive read on top things to do in Dubai with kids.
1. Take your kids to the Dubai Mall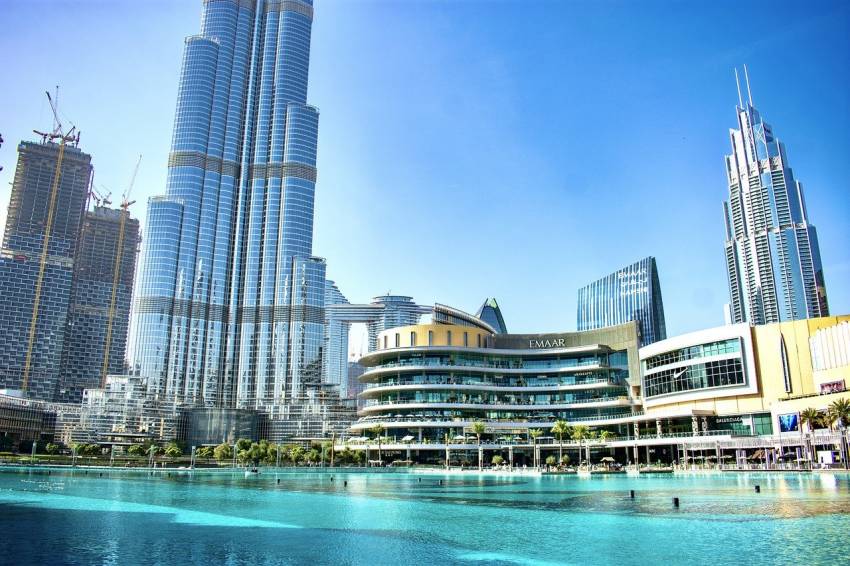 Skeptical about visiting a mall with kids! Don't take us wrong. Agreed, it has over 1200 outlets representing almost all brands, but this is an absolute fun-packed destination with something for every age and ability. Engage your smaller tykes at KidZania Dubai; see them in awe at Dubai Aquarium and Underwater Zoo with over 33,000 marine creatures; let them have distinct thrill at Dubai Ice Rink; and entertain them to the core at the world's largest indoor VR Park. Be sure to take them to Candylicious – the Middle East's largest candy store. Looking for free things to do here? Catch up with the 155-million-year-old Dubai Dino and of course, take some cool snaps against Human Waterfalls.
2. Watch Dubai Fountain Show & Plan some adventure at Burj Lake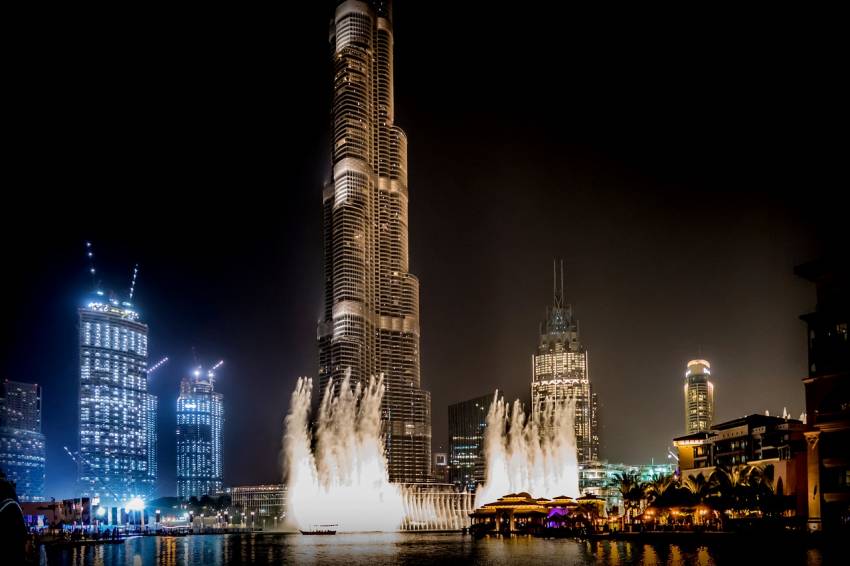 Do it as an extension of your Dubai Mall visit! This choreographic aquatic performance in unequaled sync to music and light is so breathtaking that we can attest you that your kids would definitely enjoy this. This is a free attraction, but you can take its watching experience to the next level. Watch it from Dubai Fountain Boardwalk or make it even dreamier on an abra ride along Burj Lake. Apart from these, this lake is also the venue to try glass bottom kayak ride and even paddle the waters aboard a swan boat. When it comes to your younger ones, there are charming duck and flamingo-like boats to delight them.
3. Desert Safari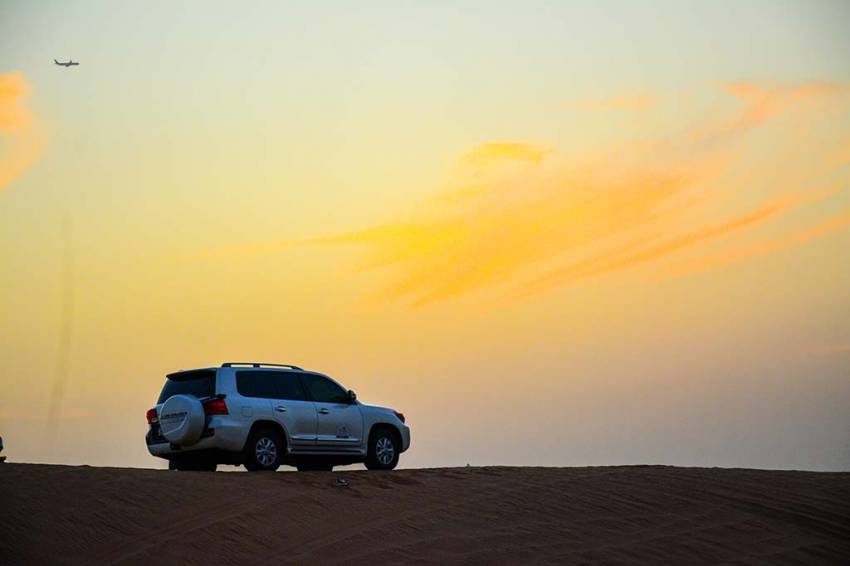 Want to get off from Dubai's dazzle at least for a few hours? A quick alternative is to go off-the-beaten-track on a desert safari. Evident from its name, it's a guided excursion into the depths of Dubai's desert dunes; it may be isolated but is still within the city limits, making it for an amazing retreat to enjoy in Dubai with kids. Let them run around and play in the sands and further get their adrenaline spiked with the exhilarating ever dune bash session. More activities and Bedouin-inspired experiences follow this, thanks to camel ride, sandboarding, quad biking, henna tattooing, falconry etc. Add to these BBQ dining and traditional shows when you opt for evening and overnight desert safaris.
4. Enjoy absolute theme park fun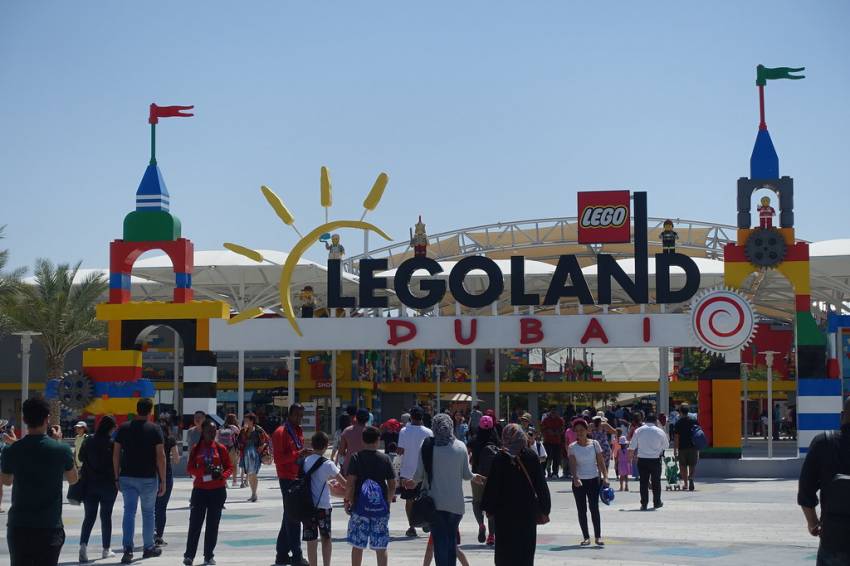 Opportunities are almost endless for those craving for a heavy dose of theme park fun and thrill in Dubai. You can start at the world's largest indoor theme park at IMG Worlds of Adventure. Take this to a whole new level at Dubai Parks and Resorts – the region's first integrated resort boasts of four parks including Motiongate Dubai, Bollywood Parks Dubai, and LEGOLAND Dubai and LEGOLAND Water Park, where latter two are created for families of kids from 2 to 12 years. There are more options by way of Hub Zero (for gaming enthusiasts) and Mattel Play! Town – a perfect amusement center for your kids aged between 2 and 10 years.
5. Swing like a Tarzan at Aventura Park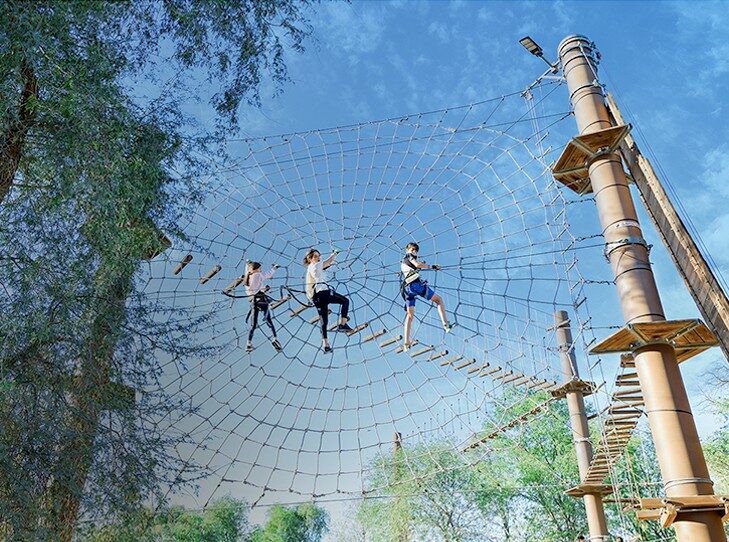 Well, that's not all you get to experience at Aventura Park inside one of Dubai's oldest parks – Mushrif Park. Lying amidst the natural ghaf trees, this nature park promises you a refreshing break from glitz and glamor, however surprisingly right in the middle of the city. With about five distinct circuits and 80 plus challenges including rope swinging, tree balancing, Tarzan jump, and zipline courses, this is one of the ultimate places for nature adventurists of all age groups.
6. Visit Dubai Garden Glow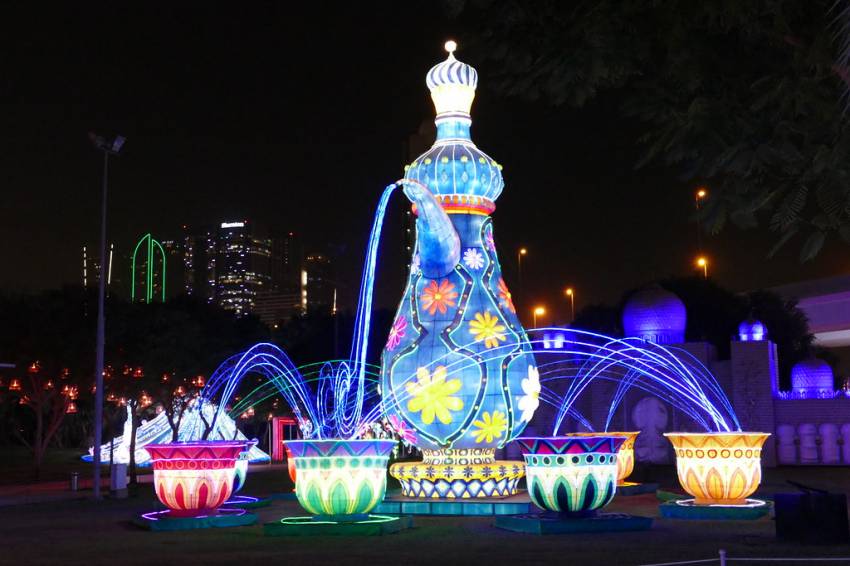 Let your kids know about the significance of eco-friendliness and sustainability in the glowing ambience of this massive park within Zabeel Park. Yes, this place is more than a park or a garden; there are tonnes of fascinating displays that are life-like artworks, immaculately created using hundreds of thousands of biodegradable stuffs. As the sun goes down, they are illuminated using millions of energy-efficient LED lights, making it even more endearing. Make sure that you upgrade your Dubai Garden Glow to add more action and fun with access to the first of its kind Dinosaur Park, Art Park, Ice Park, and Magic Park.
7. Experience authentic snow adventure at Ski Dubai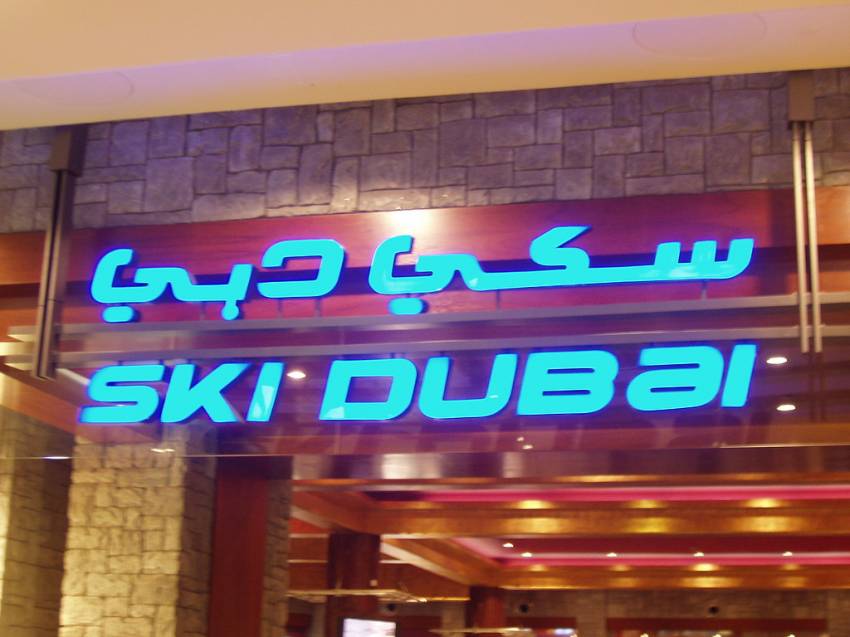 This is one place in Dubai that your little ones would certainly enjoy. For those who are not aware, Ski Dubai is the world's third largest indoor ski resort and the Middle East's first of its kind. Found inside Mall of the Emirates, it's a true winter wonderland complete with loads of snow experiences on offer. Take to its ski slope which is nothing short of a real one as it caters to skiers of every level, from absolute beginners to intermediates and pros. You can further make the most of its sprawling snow park where you can revel in cool rides, try snowboarding, roll down in a giant Zorb ball, catch up with penguins or simply throw snow.
8. Go on a Delightful Wonder Bus Tour
Gift your curious ones a sightseeing experience like no other with this unique tour. A wonder bus may appear to be an ordinary bus but this sprightly yellow vehicle comes with amphibious characteristics that are sure to delight your child. Yes, get ready to see your little one in total awe and of course, pleasantly surprised, as it allows them to take in fantastic Dubai attractions both from land and water.
9. Have mild or wild fun on Dubai's waters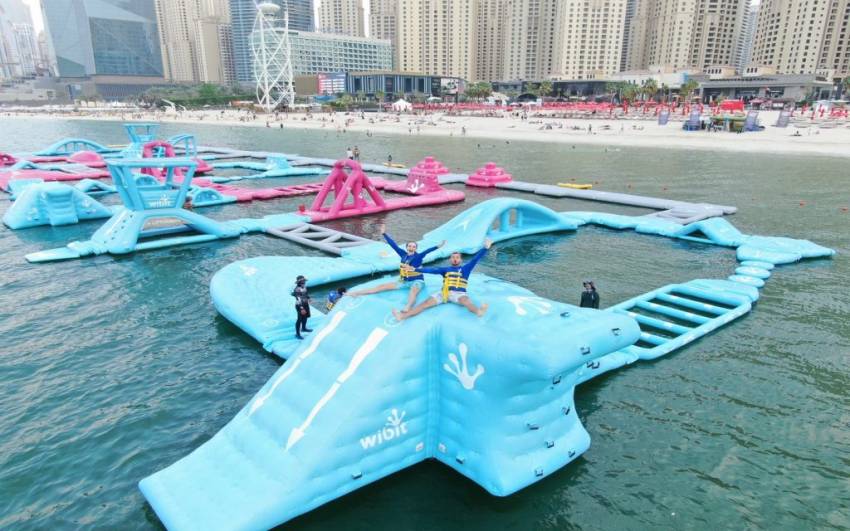 Dubai's sparkling waters along Arabian Gulf make it a haven for water sports lovers. And for those with an impulsive family, there are some amazing water activities which you can try with all members in your group, such as banana boat ride, donut ride etc. What's more; there is even AquaFun Dubai which is the world's largest inflatable water park. Don't want to get wet but instead wish to have relaxed moment on Dubai's water? You can't go wrong with a leisurely dhow cruise along Dubai Creek or Dubai Marina. Now if you don't mind incorporating a bit of adventure and speed to your cruise, go on a high-speed RIB or Love Boat cruise.
10. Don't miss out Green Planet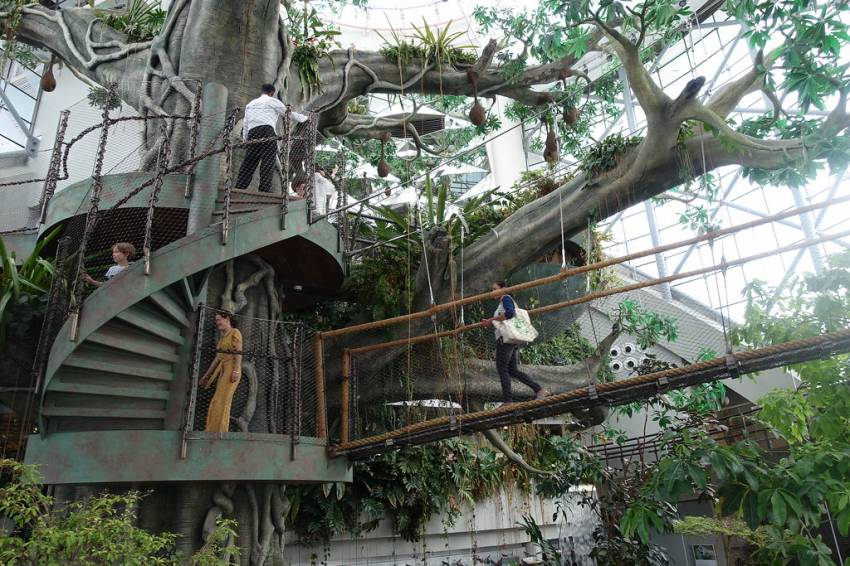 A visit here is particularly ideal for those who want to keep their kids occupied in the midst of verdant greenery and cool settings. This may be set completely indoors, but you'll feel like straight walk into a rainforest once you're here. Featuring the world's tallest man-made tree right in its centre, it is a safe abode for several fascinating plant, bird, and animal and reptile species that mainly represent the enigmatic South American Amazon ecosystem. This is one of the prime attractions of Dubai's City Walk.
Conclusion While this list goes on, we hope that our above suggestions will get you started for your much-needed family break in Dubai. So forego all speculations; let your kids join you in your upcoming vacation. The rest is assured that every member in your family will have the amusement and thrill of a lifetime.