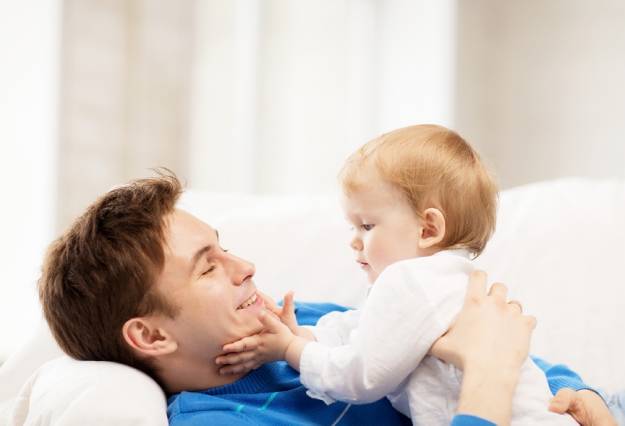 We know that new fathers need a little guidance in what exactly a new mother needs when caring for a newborn. Often, dads feel left out and early confidence building will encourage a father to take on parenting tasks they can do daily. We have selected 8 tips to help you navigate this season in parenthood. This is for you Dads!
1. Babies are resilient.
Hold your baby as much as possible. This early bonding is essential. Ask a doctor, nurse, midwife, Doula, friend or relative to give you some pointers. Remember, the football hold is works well with little babies, too.
Feeling left out. Communication is key here. Keep in the loop of what's going on around you. Jump in and ask to cuddle your baby, or put your child to sleep.
Mom's will have ups and downs. Don't take anything personal at his time. Woman will have ups and downs and are unpredictable. Support your partner and if you see any postpartum depression coming on, seek professional help immediately.
Breastfeeding support. Moms that are nursing are not able to do anything else during this time when she feeds your baby. Offer her plenty of water, light snack, soothing music or just company. Longer times away from your baby are seldom while nursing. Offering her your respect and compassion is key here. Understand what she is actually doing for your child and offer her compliments!
Take care of the home. Help your spouse out around the house. This single action will be a huge lifesaver for mom. If there are other children in the home, truly invest your time in them to help with the new transition. Also, make sure the house is comfortable for all. Hiring a cleaning crew for a few months at this time could be a wonderful plan so you can spend more time doing things you want to do.
Chip in. Offer up your time to soothe your crying baby, change diapers, play with the baby, and anything else around that needs to get done.
Be gentle with yourself. This can be a stressful time. Feeling like there is a lot to do all the time can be daunting. Find support for you, too. Do you have a great friend you can talk to when you are frustrated? Do you have a relationship with the pediatrcian to be able to call them when you need support and help? Don't forget to ask for help when you need it. Everyone benefits! Take a moment out of the house to catch a movie or workout. You will come home fresh and ready for any challenge.
Remember to be the father you want to be. It's all up to you to be the dad you want to be. Even little babies feel joy and sadness. Be sure to bring good vibes and intentions to your home. No one is perfect, this is a time for great patience and adjustment. Enjoy it.