Things to do in San Francisco
Our top picks for awesome things to do in San Francisco include...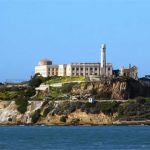 San Francisco, CA
Fun Things for Families To Do In San Francisco The city of San Francisco is a destination just bursting with activities for families with kids of all ages. Whether you are in town for a week or just a weekend there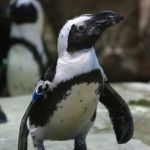 San Francisco, CA
Fun Things for Families To Do In San Francisco The city of San Francisco is a destination just bursting with activities for families with kids of all ages. Whether you are in town for a week or just a weekend there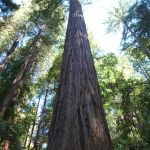 Mill Valley, CA
Muir Woods National Monument is a scenic, forested park featuring giant redwood trees, long hiking trails, a visitor center & more. Muir Woods is a unit of the National Park Service on the Pacific coast of

Big List of 56 Awesome San Francisco Activities

San Francisco Activities
San Francisco's 49 square miles of restaurants, museums, parks, wildlife and cultural activities attract year round crowds. The city's well connected transportation system and compact neighborhoods are convenient for first-time visitors.
The weather is always a factor as the fog rolls in and out and wearing layers is the norm here. San Franciscans consider September and October to be the best months for sunny weather and outdoor activities in San Francisco.
Getting Oriented
San Francisco's colorful neighborhoods are part of the city's charm and most visitors concentrate their time in the following areas.
Chinatown. Enter at the well-photographed "Dragon's Gate" at Grant Ave. and Bust St. Expect small streets lined with trinket shops and don't miss freshly baked fortune cookies at The Golden Gate Fortune Company.
Financial District. It's mostly business here with two notable tourist attractions; the California Street cable car line and the historic Ferry Building, a gastronomic display of San Francisco's goodies.
Fisherman's Wharf. It's touristy, sometimes tacky but always a stop on every first-time visitor's list. The star attraction is the sea lions at Pier 39 and for tween and teen boys the high speed Rocketboat ride.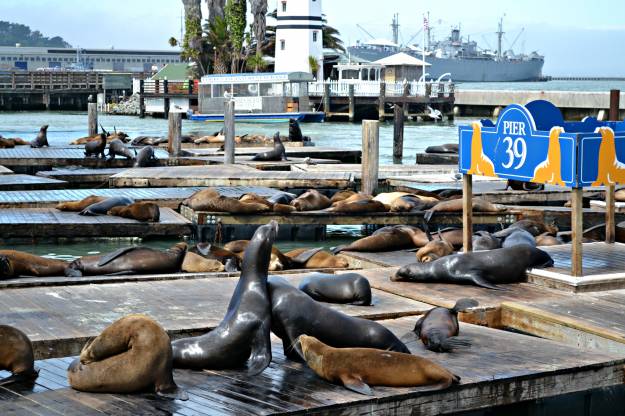 North Beach. The beach is long gone but come here for a taste of Little Italy. It's a nightlife hot spot and better for families during the day.
Union Square. If you're with teens that like to shop Union Square is filled with flagship stores and an outdoor ice skating rink during the holidays.
The Embarcadero/Waterfront. The Exploratorium and Alcatraz Cruises are here and the hop-on hop-off old fashioned trolley cars run from the Ferry Building to Fisherman's Wharf.
Things to Do in San Francisco, CA
The list of things to do in San Francisco goes on and on and you'll need to pick and choose your favorites and plan your return. Learn a bit more about the history of San Francisco and what makes it such an enticing place to visit here.
Historical Landmarks
Alcatraz. Buy tickets far in advance through Alcatraz Cruises and bring jackets because it's chilly on "The Rock." The audio tour, narrated by a former prison guard, stark cells and tales of sharks captivate school-age children.
Golden Gate Bridge. A San Francisco icon, the Golden Gate Bridge has a visitor's center with indoor and outdoor exhibits but the real fun is walking on the bridge. Parents should know that the walkway is shared with bicyclists during the week and kids cannot wander freely.
Coit Tower. The tall, thin white concrete building on Telegraph hill building can be seen throughout the city. For kids, it's more interesting to know the name than actually visit.
Museums
There are many museums in San Francisco worth visiting but the Exploratorium and California Academy of Sciences are the two must-dos with kids.
California Academy of Sciences. Feel the earth shak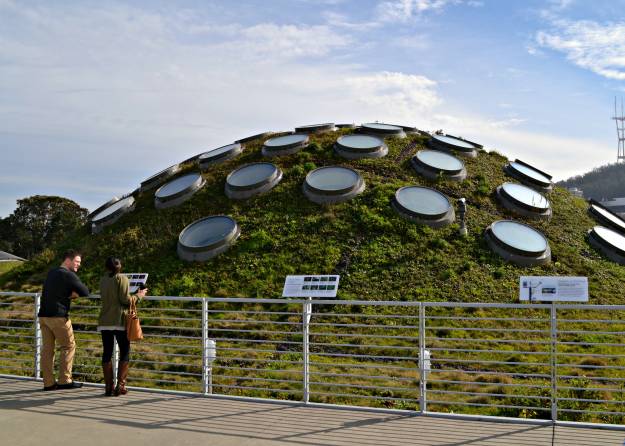 e, see an albino alligator or travel to the tropics at this beloved museum in the Golden Gate Park that offers something for all ages. Don't forget to walk up to the grass roof for views of the park.
Exploratorium. The Exploratorium's new digs on Pier 15 are full of indoor and outdoor hands-on science activities. The water fountain toilet makes every kid think twice - is it or isn't it?
Activities
Golden Gate Park. Over 1,000 acres of green space house museums, playgrounds and even bison. After a visit to the California Academy of Sciences run around at family-favorite Koret Playground and Carousel.
Hiking the Marin Headlands or Lands End. Both Land's End, on the city side of the bridge, and the Marin Headlands offer an easy escape from the city with miles of hiking trails and bridge and city views.
Lombard Street. The famous street is not the most crooked in San Francisco but it is the prettiest and cars line up to drive down it. The best photo op is from the bottom looking up.
Yerba Buena Gardens. Located near Union Square, Yerba Buena Gardens has a carousel, bowling alley, ice skating rink, museum and outdoor space to run - it's a relaxing respite. The nearby Children's Creativity Museum is considered a hidden gem by local families.
Our friends at Travels with Tam have put together a great photo itinerary of some of their favorite places to visit in San Francisco. You can get some ideas on what to include on your travels and how to incorporate them into your trip.
Day Trips from San Francisco
Muir Woods and Sausalito. Only eleven miles from San Francisco on a winding road, you'll find the towering redwoods at Muir Woods. Six miles of walking trails meander in and out of the shaded giants, some over 350 ft tall. Arrive early to find a parking spot and stop in seaside Sausalito for lunch on the way back.
Point Reyes National Seashore. This all-day excursion is an hour plus drive from the city. Point Reyes National Seashore is home to over 70,000 acres of cattle ranches, miles of hiking trails, the Point Reyes lighthouse and wildlife including Tule elk, elephant seals and whales during winter.
Our friends at Lifestyle Blogger put together a great snapshot of their trip to San Francisco here if you are looking for itinerary ideas and things to do in San Francisco.
Where to Stay
The Argonaut. Nautical themed rooms and a convenient location near Ghirardelli Square and Fisherman's Wharf make The Argonaut an easy choice for families. Westin St. Francis. Situated on Union Square, the Westin St. Francis is an historical landmark in the middle of the action. Hotel del Sol. Value-oriented Hotel del Sol is located in the Marina neighborhood and offers a variety of room options for families, complimentary breakfast and a small outdoor heated pool.
Dining with the Kids
San Francisco restaurants are known for fresh ingredients and innovative cuisine. Burgers and fries are still around but there are many options for adventurous eaters.
Kid-Friendly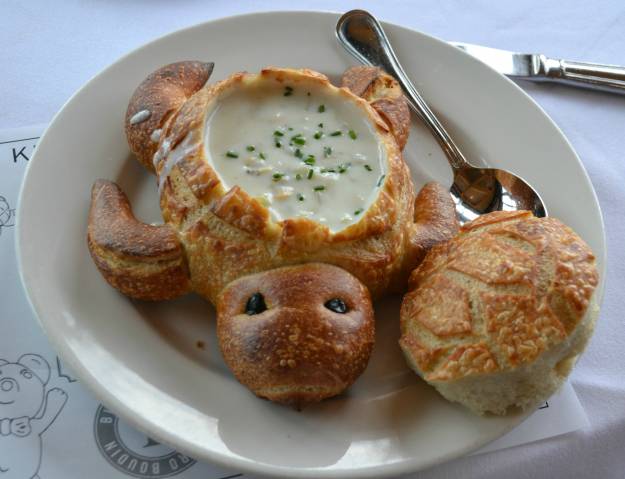 Boudin Bakery at Fisherman's Wharf has a cafe downstairs and a sit-down restaurant upstairs with views. The bread-making demonstration window is a fixture on the tourist trail. The Ferry Building is full of restaurants but Gott's Roadside hamburgers always hit the spot. Another option is to grab a Cowgirl Creamery Sidekick sandwich or salad, eat outside and watch the ferries come and go.
For Foodie Families
Delarosa in the Marina on Chestnut Street is always packed with diners coming for fresh burrata, salads and gourmet pizzas. It's all about the seafood and views at waterbar on the Embarcadero. If the kids aren't up for ceviche, try the shrimp cocktail or ravioli on the kids' menu. The North Beach/Little Italy walking food tour with Local Tastes of the City is an entertaining three hours of leisurely walking and nibbling with a bit of history on the side.
Insider Tips
First-time visitors planning to see the major attractions can save money with a San Francisco CityPass. Exchange the harbor cruise for an Alcatraz cruise when you buy it at Alcatraz Tours. SF City Guides offers free guided tours of San Francisco attractions; the Golden Gate Bridge and Fisherman's Wharf tours are recommended for families.
If You Go
Parking is challenging and expensive at hotels and if you don't need a car, skip it. San Francisco has convenient public transportation and with trolley cars and cable cars in the mix, its an attraction too. Rental cars and taxis are readily available in the city.
SFO airport is south of San Francisco and connected to the downtown by BART metro service.