Things to do in St Louis
Our top picks for awesome things to do in St Louis include...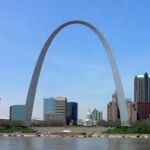 St Louis, MO
Visit the historic monument which symbolizes the Western Expansion by Lewis and Clark at the Gateway Arch in St. Louis, MO. Experience the majesty of this architectural masterpiece which boasts a height of over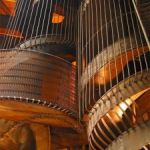 St Louis, MO
Housed in the 600,000 square-foot former International Shoe Company, the museum is an eclectic mixture of children's playground, funhouse, surrealistic pavilion, and architectural marvel made out of unique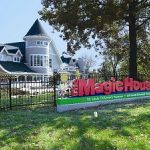 St Louis, MO
The Magic House is a family hand's on museum with hundreds of exhibits for the whole family to enjoy. This museum was designed with children and their development in mind by helping children learn to explore

Big List of 52 Awesome St Louis Activities
St. Louis Activities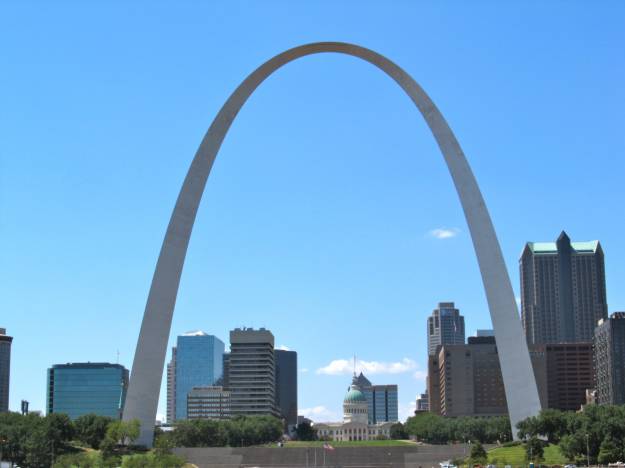 The 58th largest city in the United States, St. Louis, MO is not called the gateway to the West for nothing. Arts and culture have taken a stronghold on the area as well, offering many a respite from the faster pace on the city. Steeped in rich Native American history and brimming with city vibe that is one of a kind.
Getting Oriented
The city itself is separated into 79 neighborhoods, which display varying architecture styles. The look and, indeed, the vibe of each area differs from the next as in the example of Lafayette Square with its three –story French style houses and Skinker-DeBaliviere's single family brick residences. This individuality creates an eclectic mix of architecture and style. As you visit locales in St. Louis, you may hear also the area split into North City and South City.
Spring and fall are temperate. Spring is when St. Louis receives the most rainfall. Additionally, St. Louis has its share of tornados and in the winter, a fair amount of snowfall. Be sure to pack properly for the weather. A jacket is usually necessary in the early spring and mid to late fall and winter clothing is appropriate for the winter season.
Things to Do in St. Louis, MO
Here are some of the most popular locations and activities:
St. Louis Zoo
Visit one of the most zoologically advanced zoos in the nation. See over 18,000 animals and learn about endangered species, and ride the Emerson Zooline Railroad for a guided tour.
Magic House Children's Museum
Let your children explore in this hands on museum. You won't be able to resist joining in on the fun as you weave through exhibits like Sid the Science Kid and Jack and the Beanstalk. Sit at the President's desk, fix cars, and embark on a Lewis and Clark adventure together.
Science Center
Kids and Adults alike will enjoy the opportunity to explore through sight and sound in this interactive museum. Witness demonstrations and test theories on your own in the Discovery Room. This hands-on center is fun for all ages.
Entertainment
Six Flags St. Louis
There's always time for rides, games and fun! Six Flags St. Louis has all that and more. From rides for young children to thrill seekers And daredevils, this theme park has something for everyone. Thrill seekers can try the loopy speed demon roller coaster called Batman: The Ride or tempt fate on Screaming Eagle, the park's wooden coaster. The whole family can enjoy Hurricane Harbor Water Park. Fun in the sun, shows, and great food – it's the perfect excursion for everyone.
Go to a Game
Sports and St. Louis go hand in hand. While you're in town, why not take the family to see a St. Louis Cardinals game? Or watch the St. Louis Blues play hockey. Or see the St. Louis Rams in action. Whether baseball, hockey, or football, St. Louis has something for you!
City Museum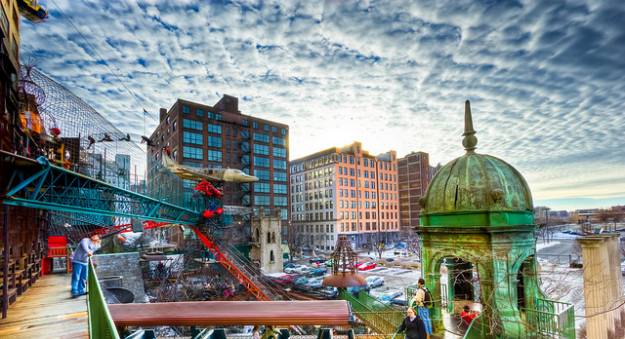 If you feel like playing, this is the place to do it. City Museum's MonstroCity is one of the most innovative, interesting, and outright fun monkey bar set you'll ever see. Climb all the way to the top and reach the planes… yes, planes. You'll quickly want to do it all over again.
Sightseeing
The Gateway Arch
Perhaps the most well known landmark I the city, The Gateway Arch stands at 630 ft. Ride to the top of the arch and see up to 30 miles whether looking East or West. Enjoy the historical museum that spans the 1800s through 1965. You can also see the Arch in all its grandeur from the aboard a paddle-wheel boat on the Mississippi river.
Where to Stay
There are contemporary accommodations downtown as well as in the outskirts. The varied neighborhoods also allow visitors to choose a venue that suits their personal style. From high-rise hotels to bed and breakfasts St. Louis can accommodate any taste and budget. Here are some suggestions:
The Chase Park Plaza: Luxury HotelIndigo: ContemporaryMoonrise Hotel: Contemporary
Where to Eat
Eating on vacation is always a hit or miss thing. You never know what's really good or what looks trendy but isn't what you were thinking of. Finding a place to eat with children can be difficult as well. This section provides some ideas of where to eat that are good for both you and your kids.
Kid-friendly
Cunetto House of Pasta
A comprehensive offering of Italian favorites, Cunetto House of Pasta offers meticulously prepared food in a casual setting.
Bandana's Bar-B-Q
The area's known for BBQ, so you might as well sample it. Bandana's Bar-B-Q is a great place to give it a try. Their Bar-b-q for Four dish has a little something for everyone. With ribs, chicken, 2/4 lb. of pork or beef, garlic bread, and sides, how could you go wrong?
Pam's Chicago Style Dogs & More
Sometimes there's nothing better than a good ole hot dog. Pam's Chicago Style Dogs & More offers that and other mouth-watering items like Gyros, salads, and chicken dishes.
For Foodie Families
Sidney Street Café
This foodie hangout will provide you with a wonderful food experience that is suitable for both adults and children.
The Shaved Duck
You may have seen this restaurant on Food Network's, "Diners, Drive-Ins, and Dives". It's worth a try. Their smoked meat is worth a try, but get their early- the place fills up quick!
Insider Tips
Here are some things that you can do to help you save money on your trip to St. Louis:
Going to Six Flags? Go online and print discount tickets before you leave the hotel. The discounted price online will be less than you'll pay at the gate.Don't skip Ted Drewes. Their frozen custard is like none other.Get a Metro transit pass. It will help you save on traveling costs in the city.Buy tickets to attractions early so they don't sell out before you get your ticket.
If You Go
Lambert International Airport is accessible from major airports across the United States. Getting around St. Louis is made simple by the public transit options available. Metro transit consists of MetroLink for train service and MetroBus for bus services. These options combined will get you all over the city and the surrounding areas. There are also taxicabs and rental car options available.
Because St. Louis is part of the United States there is no requirement to have a passport. A valid ID will be required.