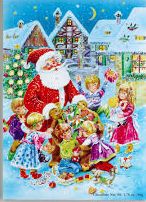 I've had been celebrating the holidays with an Advent Calendar every year of my life.
Now in my 40's, it's one of the best traditions I now share with my daughters! The Advent Calendar has a rich history, and you can find out more about it in the following article.
We adore the countdown to Christmas with our four calendars. I typically get traditional German Advent calendars and the chocolate treat ones for the kids. With each little window I get so in the spirit of Christmas and that's precisely the idea!
History of the Advent Calendar
The first known Advent calendar was supposedly a handmade creation in late 1851 and the first commercial one was made in Hamburg, Germany in 1902 by a Protestant bookshop, and then later by Gerhard Lang, in 1908. But history tells us that the countdown to Christmas started well before the Advent calendars using many different ways to record and count the days down.
You can also make your own, and here are a few wonderful crafts you can make yourself.
Kinds of Advent Calendars
Traditional. Small rectangle windows depict religious scenes, poems or Christmas winter scene.

Chocolate. Each window has a chocolate treat!

Advent Gift. Small boxes have small gifts and trinkets inside.

Fabric with Pouch. These also harbor tiny treats inside.