Adventureland Park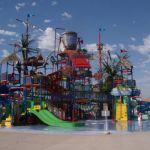 Activity Overview
Adventureland amusement park is located north east of Des Moines in Altoona, Iowa, featuring over 100 rides, shows and attractions. The amusement park is popular for its thrill rides, especially roller coasters, there are some great water rides for water lovers and less adventurous rides for the younger kids. The amusement park features shows and attractions that are bound to excite the whole family, dance shows, magic shows, and live music adds to the all day fun element.
Things to Do
Families can have a fun filled and adventurous day at the Adventureland amusement park with thrill rides, water rides and attractions and shows to spell bound visitors of all ages. There are plenty of fast roller coasters to attract the thrill ride lovers.
Plenty of family rides that the whole family can enjoy together, enjoy water racing in Reef Racer, soak up the sun in the lazy river "Caribbean Cruiser". A swimming pool with max. depth of 3 foot, a crazy water slide "Typhoon", have lots of water play and fun in the Kokomo Kove.
Enjoy the sky ride, water coaster "log ride", ride the pirate ship "Galleon", Frantic freeway bumper cars, the classic carousal, colorful balloon race, take a tour of the adventure land in the A-train, spin in the tea cups, a giant Ferris wheel, explore an underground mine, and many more rides.
There are plenty of rides for the little ones and the toddlers, including a splash pad Heron harbor, Hampton cars, lady bugs ride, infant ocean, puff dragons, convoy truck ride, and more.
Adventure land Inn offers lodging facilities, restaurant and a lounge. A seasonal campground with an outdoor pool is a perfect place for the Summer holiday.
Plenty of restaurants to satisfy the taste buds, Chicken shack, frosted lemonade, candy shops, Iowa cafe, River city, Sam's Saloon, Soda and sounds, The parrot perch, and the Oasis offer many food options for the whole family.
There are many shops to buy souvenirs from, including the rock shop, clothing store, fire station, candy shop train station, and adventure land store.
Adventureland Park Insider Tips
Strollers and lockers can be rented.
Outside food is not allowed inside the park.

Reviews
Sign Up - Family Fun Newsletter
Have fun with great ideas on things to do for travel, daytrips, nearby, or at home...