"Children are made readers on the laps of their parents." -Emilie Buchwald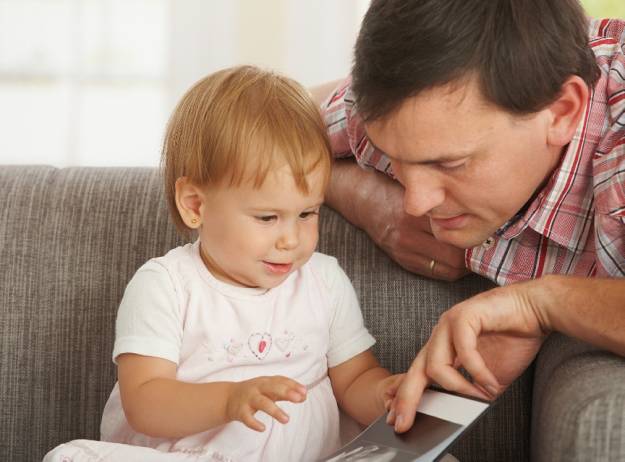 Reading to your infant is one of the most rewarding gifts you can give them.
With rapid development that occurs in the very first year of life, babies benefit from singing, nursery rhymes, and daily story time - not to mention the special cuddle time with your precious bundle.
10 Easy Ideas
Create a special book shelf. Soon, they will be crawling to their favorite book!
Devote 15 minutes a day to reading.
Choose repetitive, simple board books that are sturdy, too;
Sing and recite nursery rhymes daily.
Point to animals and pictures to direct their eyes to specific things on the page.
Add movement and touching. Gently bounce your baby in your lap!
Hold the book so your baby can take in the pictures easily.
Let babies hold and play with books (board books are great for teething nibbles).
Read expressively, or use your own words to better suit your baby.
Visit the library and story time outside your home.
Top 10 Books for Infants
Pat the Bunny, by Dorothy Kunhardt
Good Night Moon, by Margaret Wise Brown
I Kissed the Baby, by Mary Murphy
The Very Hungry Caterpillar, by Eric Carl
My Very First Mother Goose, by Iona Archibald Opie
Do Pigs Have Stripes?, By Melanie Walsh
My Big Book of Everything, by Roger Priddy
Chicka-Chicka Boom Boom, by Bill Martin, Jr. et al
Owl Moon, by Jane Yolan
Dr. Seuss Series