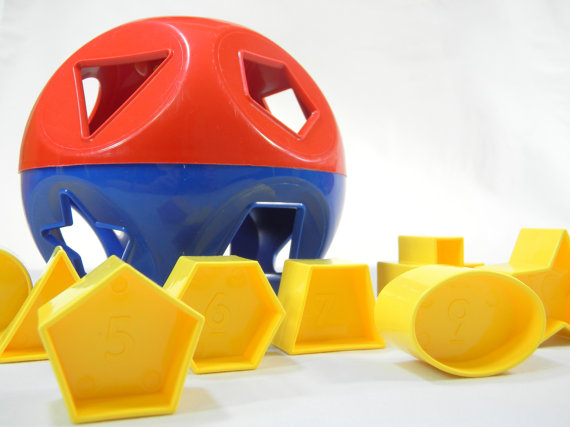 One of the very best toys you can invest in for your young child is the sorting/shape toy called Shape-O toy from Tupperware.
Some of you reading this may have even played with one as kid!
This is a toy that grows with a child, from infants to preschoolers.
Genius Design For Small Children
Infants - It's a rolling rattle, so it's awesome for little hands to grab the open spaces and shake. Feeling the edges of the shapes on the sorter and the shapes themselves are safe for play and discovery.
Toddlers - can use the 10 pieces to match the shapes on the toy, allowing them to identify shapes and develop coordination and dexterity. This toy has immediate gratification.
Preschool - Each piece also has a number on one side with the corresponding number of dots on the other to teach preschoolers number recognition and counting. The durability of the toy makes it a proven toy to play with for many years! Easy to wash and sanitize right in your dishwasher!
How the toy works
Two handles are easy to grip and pull apart. Letting the shapes come out of the inside.
Shapes are sized for child safety in mind.
Easy storage of shapes. They simply stay inside the toy when not playing with it.
A toy that grows with your child, from infant to preschool.
Ages 6 months and up will enjoy the toy.
Teaches 10 shapes
Parents will enjoy the simplicity of the game and value the skills your child is learning.
Durability. Tupperware has mastered this toy with this design and materials.