Blank Park Zoo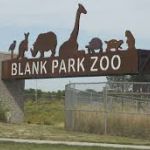 Activity Overview
Blank Park Zoo is a 25 acre zoological park located in Des Moines, Iowa near the historic Fort Des Moines. The Zoo displays a variety of wildlife exhibits, it has a discovery center, aviary, aquarium, African Boardwalk and kid's kingdom, plus many special events are held at the Zoo including story times, adventure days, zoo brew, night eyes, camping, meeting with the Santa and many other events.
Things to Do
Blank park zoo offers many fun and educational activities for the families, see a variety of animals in the Zoo that you can't see else where in Iowa. See Amur tigers, Lions, Ostrich, Penguins, Rhinos, sea lions and snow leopards.
Visit the Discovery center and see the Alpine exhibit, The cave, and the free range aviary displaying animals including pigeon, pheasant, teal, parrot, flamingos and swans.
The aquarium of the discovery center displays many aquatic environments, featured animals are catfish, corals, sea anemone, clown fish, sea star and many more.
The kid's kingdom is a huge playground with slides, mazes, monkey bars, fossil digs, and a petting zoo where kids can feed the animals such as goats, Ilama, donkeys, pigs, chickens, and swans.
Kids can enjoy riding the train, carousal, camel and feed animals like Ostriches, Giraffe, Parakeet for a little fee.
Picnic grounds are available near the parking lot, food concessions inside the zoo are present April through September.
The wild things gift shop stocks stuffed animals, toys, apparel and souvenirs. Birthday parties for children are available.
Blank Park Zoo Insider Tips
Outside food and drinks are not allowed.

Reviews
Sign Up - Family Fun Newsletter
Have fun with great ideas on things to do for travel, daytrips, nearby, or at home...