Summertime in Boston is so much fun when kids are skipping through fountains and splashing in shallow pools of water throughout the city. There is plenty of water fun to be had in neighborhoods all around Boston, and we've rounded up some of our favorite spots. Most locations are open on weekends after Memorial Day, and then daily from the end of June through Labor Day. Bonus: they're all free to enjoy on a hot summer day!
Frog Pond - Boston Common Boston
From the opening day festivities in late June through Labor Day weekend, children ages 12 and under can cool off in the Frog Pond Spray Pool, open daily at 11am. The area also features a fun playground adjacent to the water as well as a carousel for kids to enjoy once they cool off.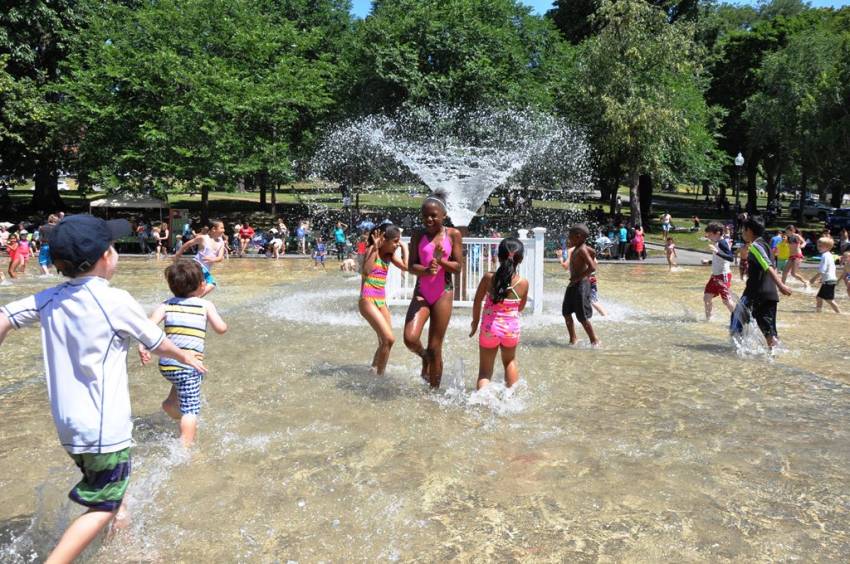 Splash Fountain - Christian Science Plaza - 194 Massachusetts Avenue, Boston
Enjoy a fun splash pool area in the center of the fountain as well as the evening lighting system which creates a wonderful atmosphere. The Splash Fountain is open daily from 9am-9pm, weather permitting. The fountain is located on the Belvedere Street side of the plaza, not far from lots of eateries and the free movie series at The Pru.
Rings Fountain on the Rose Kennedy Greenway - Chinatown, Wharf District, and North End
The magical Rings Fountain is the centerpiece of Greenway fountains and certainly our favorite. 64 nozzles shoot up in the air and create circles of vertical water. It's available for splashing and cooling off from late May through early October from 9am-11pm daily.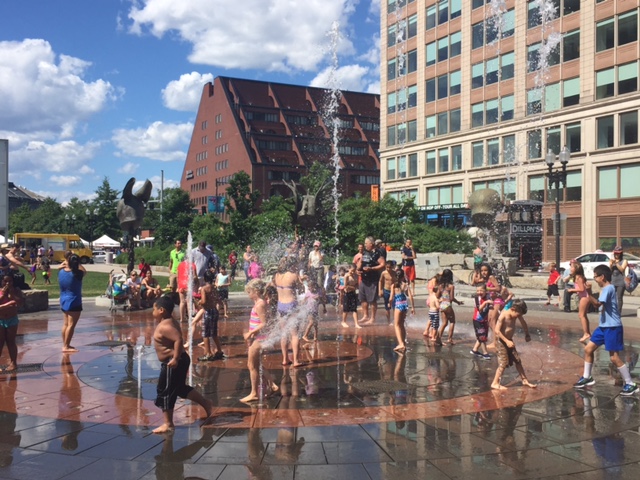 Charles Bank Playground & Wading Pool - Charles Street at Longfellow Bridge, Boston
Situated along the banks of the Charles River, it's a family's dream; a spot where the kids can swing, run, climb, and pretend, while parents enjoy the sun glimmering on the Charles. In the summer, there is a decent-sized wading pool with a fountain that is perfect for cooling off.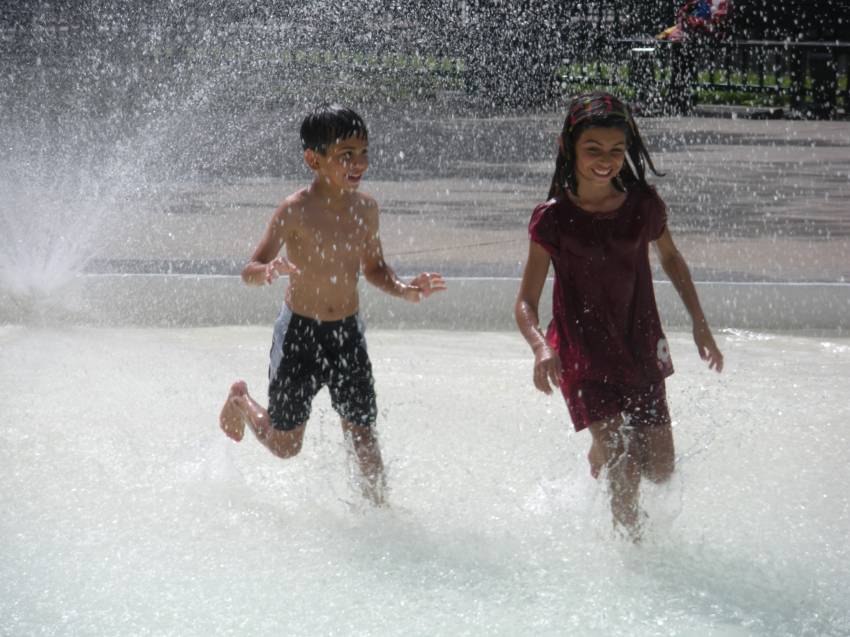 Artesani Playground Spray Deck and Wading Pool - Brighton
The small, nicely-maintained DCR playground has a spray deck and wading pool for cooling off. The spray deck and wading pools are open weekends starting Memorial Day; open daily, 9:30am-7pm, late June - early September.
Beaver Brook Spray Deck and Playground - Belmont
Enjoy lots of fun water features in the Beaver Brook Spray Deck. There's a playground and lots of green space and paved walking trails to explore in the Beaver Brook Reservation. Street parking on Trapelo Road or parking in the lot on Mill Street. The rocks in the water area tend to get slippery, so have little ones wear water shoes with tread. Open daily from late May - early September from 9:30am-7pm.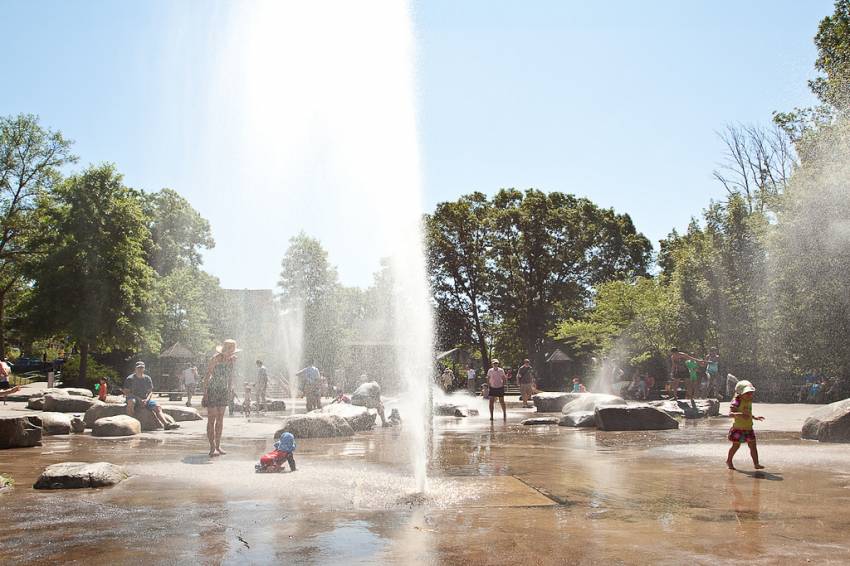 Stony Brook Spray Deck - Jamaica Plain
This small neighborhood spray deck is part of the Stony Brook Playground. Open daily late May -early September from 9:30am-7pm.
For information on more swimming pools, wading pools, and spray decks in Boston, see the Department of Conservation and Recreation's website.