Brackenridge Park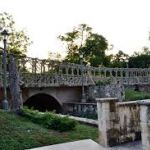 Activity Overview
Brackenridge Park is a large, wonderful, 343-acre park in San Antonio, Texas. Located just 3 miles from downtown San Antonio, the park is especially great for families due to the numerous fun activities it has in store.
Things to Do
San Antonio Zoo - The zoo contains over 3,500 animals, including a plethora of birds, reptiles, and amphibians to keep every visitor, from young to old, curious and interested.
Japanese Tea Gardens - A beautiful garden with a pagoda and amphitheater, this is a perfect place to stroll around and enjoy a unique culture.
Witte Museum - A natural science and history museum, this is a perfect place for people who wish to learn more about South Texas history. Among the many interesting items on display, there are dinosaur bones as well as a circus collection.
Botanical Gardens - In operation for over 40 years, this lovely botanical garden includes a greenhouse, a Palm and Cycad Pavilion, an overlook tower, a herb garden, and, that most famous flower of them all, a rose garden.
Brackenridge Eagle Miniature Train - This is an incredibly fun activity for people of all ages, but kids especially will love riding on this historical narrow gauge train for 3.5 miles.
Brackenridge Park Insider Tips
If you wish to play the Brackenridge golf course, the cheapest time to go is during the week, when it costs $60 instead of the $75 which gets charged on the weekend.
If you are a bird-watching enthusiast, try going to Avenue A in the park, where you'll have the most luck spotting the park's numerous bird species.
The park is free to go to, but the activities may cost extra (ie the San Antonio Zoo).

Reviews
Sign Up - Family Fun Newsletter
Have fun with great ideas on things to do for travel, daytrips, nearby, or at home...