Buffalo Zoo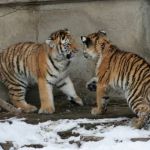 Activity Overview
The Buffalo Zoo is the third oldest Zoo in the US, and is located in Buffalo, New York. The Zoo is open year-round and it displays a diverse collection of wild and exotic animals, and more than 320 different species of plants. It is a big tourist attraction, especially for the families, many special events and programs are held at the zoo for the families. Families must visit the Buffalo zoo for a fun and educational day out.
Things to Do
Visitors can view a diverse range of animals at the zoo, and learn facts and figures about different animals. There are many animals to see at the Buffalo zoo, including, Siberian tiger, polar bear, Asian elephant, howler monkey, sea lion, lion, wolf, American bison, deer, giraffe, bear, turtles, iguanas, snakes, python, parrots, goose and many interesting birds and amphibians.
Cub Club is a special Preschool program for kids 2-4 years, little kids will learn about the amazing animal kingdom through stories, crafts, games and an interaction with a live animal.
Set up your child's birthday party at the zoo that includes a wild animal presentation. The zoo offers many family friendly workshops.
The zoo not only includes animal exhibits, it has beautiful garden areas and a rainforest exhibit to explore a variety of plant species.
A playground and Rides for the little kids are available, such as train ride, carousel, and Kangaroo hop.
The delta sonic heritage farm lets kids interact with domestic animal breeds in a historic farm recreation.
Food concession stands are located through out the zoo, shop for exclusive gift items at the Zootique gift shop, shop for mugs, clothes, shirts and hats.
Buffalo Zoo Insider Tips
Picnic tables are available.
Restrooms are available.

Reviews
Sign Up - Family Fun Newsletter
Have fun with great ideas on things to do for travel, daytrips, nearby, or at home...