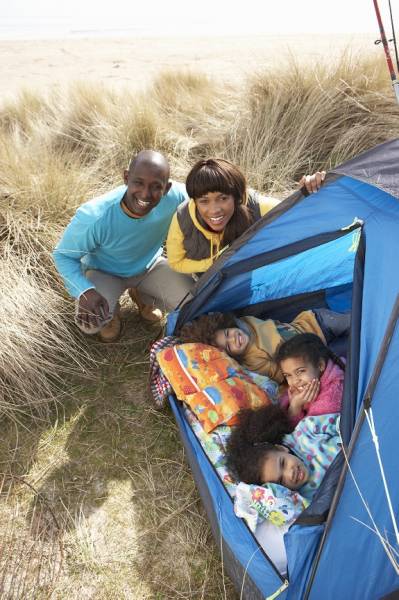 Camping with your family requires a lot of preparation work, but the benefits from going on such an adventure will provide lasting memories for years to come.
I will guide you through some of the essential planning to get started. I have been taking camping trips for over 20 years. From Alaska and Colorado to Maine, I've pretty much camped all over the Unites States.
I suggest more of a car camping type of adventure. This will provide easy exit if conditions get unsafe, or if anything comes up that you need to leave on a spur of a moment.
Camping with kids can require a lot of extra gear you may not need for adult camping adventures, but you will need much of this list for comfort for all.
Be sure to check out other lists from Appalachian Mountain club and REI for great lists, too.
First Thing to Organize
Sort out a location for your trip. Book early, because the best campgrounds fill up very quickly. You may also want to avoid weekend traffic by leaving early on a Friday. Setting up your campsite during daylight hours is really the best way to go with kids.
Prepare Your Gear
Be sure your gear is ready to go before you go camping. Even checking to see if you tend is in perfect working order. Our friends at the Barefoot Nomad have done all of the hard work for you by testing dozens of backpacks and picking the very best travel backpacks to help keep you organized while on the road.
Camping Gear Essentials
Tent
A good back pack
Tent base (we like to use a tarp)
Extra tarp
Sleeping bag for each camper
Sleeping pad for each camper
Headlamps or flashlights (extra batteries)
Lantern Lantern fuel or batteries
Pillows
Extra blankets
Chairs
Kitchen Items
Stove
Fuel for stove
Matches and/or lighter
Firewood
Frying pan
Pot
Tablecloth
Water bottles
Plates, bowls, forks, spoons, knives
Cups, mugs
Food-storage containers, bags
Trash bags
Cooler
Ice
Paring knife, spatula, cooking spoon
Cutting board
Foil
Soap Sponge, dishcloth, dishtowel
Paper towels
Extra basin for washing dishes
Clothing Essentials
Clothes for daytime
Pajamas
Bathing suits
Rain gear (a must!)
Shoes - all kinds - hiking, flip-flops, water shoes
Layers for warmth
Gloves and hats
Toiletries
Sunscreen
Insect repellent
First-aid kit
Prescription medications
Toothbrush, toiletries
Soap
Towels
Special Items
Camera
Phone
Maps & area information
Bikes, Frisbee, balls/toys
Prepare the food list
Write down what you plan to eat for each meal (breakfast, lunch and dinner.)
Then prepare what you can at home—marinate the meats, cut the vegetables, wrap the potatoes in foil.
When you pack the cooler, set out the foods meal by meal, thinking about how you'll serve each meal so you don't forget condiments and necessary utensils, can opener, etc.
Once you get a solid preparation in order, your trip will be much easier from start to finish, and you will be ready for whatever your adventure has in store for you.