Central Park Zoo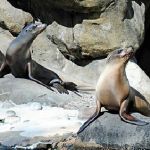 Activity Overview
The Central Park Zoo is a small 6.5-acre zoo located in Central Park in New York City. It is part of an integrated system of four zoos and the New York Aquarium managed by the Wildlife Conservation.
Things to See & Do
Central Garden Sea Lion Pool - At the heart of the park, bark hello to the sea lions, and meet their devoted keepers. Whether they're high-fiving their trainers, showing off their flips, or catching fish on the fly, our charismatic sea lions love to impress a crowd.
The sea lion feed is a visitor favorite. Feedings occur 2-3 times a day - be sure to check the schedule and plan your day accordingly.
Polar Circle - Meet birds from the ends of the earth! Visit the Antarctic turf of penguins and Arctic waters of puffins. Our indoor bird colony makes for a great year-round experience.
Penguin Feedings - Watch the gentoos, chinstraps, and king penguins feast on fish. Feedings occur 2-3 times a day - be sure to check the schedule and plan your day accordingly.
Snow Leopards - Meet big cats in the big city. This rugged evergreen habitat, complete with a rocky waterfall, replicates the critically endangered snow leopard's home below the tree line in the mountains of Central Asia.
Children's Zoo - This compact nature trail for young explorers features a barnyard full of friendly sheep and alpacas, a meandering duck pond, and plenty of places for little hands and feet to hop, scuttle, and climb!
Catch a short movie in the 4-D Theatre. Open daily with shows playing approximately every 15 minutes.
Central Park Zoo Insider Tips
Admission fees include entrance to both the Main Zoo and Children's Zoo.
The Central Park Zoo is open 365 days a year, and the animals are on exhibit all year-round. Spring and summer are naturally high-attendance seasons, however, when the weather cools off, many animals are more active and you'll encounter fewer crowds.
Getting there: The Central Park Zoo is located near numerous subway and bus stops. You can take the N/R/W or 6 trains, or the M1, M2, M3, M4, M5, M30, or Q32 buses.
Parking: Parking is not available at Central Park Zoo. Drivers can consult the list of nearby parking lots.
Dining: The Zoo's Dancing Crane Café features a wide variety of high-quality meals, snacks, beverages, and desserts that include carefully prepared, fresh, and healthy choices. For a lunch brought from home, benches outside of the zoo or in the park make ideal picnic spots.
Strollers: Most of the park is stroller accessible. Some buildings and exhibits request that you stow your stroller in a designated area before entering.

Reviews
Nhasach N.
Good
Sign Up - Family Fun Newsletter
Have fun with great ideas on things to do for travel, daytrips, nearby, or at home...