Central Park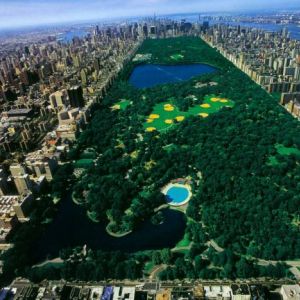 Activity Overview
Tree-lined paths, sunny meadows, sparkling waters—Central Park has it all! There's no better place for a picnic or ramble than this gorgeous 840-acre park, which offers a multitude of activities. Feeling active? Try hiking, biking, or rowing (you can rent bikes or boats within the park). There's even a zoo!
Things to Do
Ways to see the park:
Hire a horse and carriage or a pedicab at the base of the park (59th Street). It's a pricey but fun way to see the lower half of the park.
Several places rent bicycles. Park roads are closed to cars on weekends and on weekdays from 10 a.m. -3 p.m. However, you'll still need to watch out for runners, skaters, and other cyclists. Beginning bikers may want to stick to the 1.7-mile lower park loop; the upper loop is 6 miles long and hilly.
Simply strolling is a wonderful way to discover the park's hidden charms: graceful bridges, whimsical statues, the "Imagine" mural at 72nd Street that honors John Lennon.
For more ideas about finding hidden gems in NYC, visit our friends at Passport Symphony.
Recommended activities:
Between late October and early April, ice skate at Wollman Rink, just a few minutes' walk from W. 59th Street. Cash only.
Kids love the Central Park carousel at 64th Street. It's open 10 a.m. to 6 p.m . April–October. $3 per ride, cash only.
Central Park has many playgrounds. Heckscher Playground, around 62nd Street, is the largest. It has a water play area, giant climbing rocks, restrooms, and food carts.
Set your kids loose on the Great Lawn, from 79th to 85th Streets. They can run while you enjoy the view of nearby Belvedere Castle, which contains a small nature center.
Walk up the Mall (66th-72nd Street) a tree-lined corridor that delivers you to the Central Park Lake. Admire beautiful Bethesda Fountain, with its 8-foot-high bronze angel. Look for turtles, ducks, and swans.
Rent a rowboat at Loeb Boathouse on 72nd Street (where you can also get lunch).
Watch people sail model boats on Conservatory Water, a large pond at 72nd Street.
Catch a marionette show at the Swedish Cottage Marionette Theater at 79th Street. Reservations/tickets required.
Visit the Central Park Zoo at 64th Street and 5th Avenue. It's small, but young children will find the chance to gawk at snow leopards and penguins worth the admission charge.
Central Park Insider Tips
Be aware that the park is large and hilly, and that the attractions are spaced out. Bring a stroller for younger children.
The park stretches from 59th to 110th Street and from 5th to 8th Avenue. You can, of course, exit at a different place from where you entered, but you may need to walk some distance to find a subway or taxi.
Restrooms are found throughout the park, including at Heckscher Playground, Bethesda Terrace, and Loeb Boathouse.
Before entering the park, it's a fine idea to stop by a deli and purchase a picnic to enjoy later. The park does have food carts, where you can buy items such as a cold bottle of water, an Italian ice, or a hot dog to tide you over.
The park is gloriously green in summer, but spring, fall, and winter have their charms too: pink cherry blossoms, red and gold foliage, dazzling white fields.
You may see street performers (anyone from musicians to acrobats) in the park. They can be great fun. If your family enjoys their performance, consider tipping a dollar or two.
Older, theater-loving teens may be interested in the free Shakespeare performances at the Delacorte Theater on summer nights. Tickets are required and can be obtained (two per person) by waiting in line at noon.
Don't miss the enjoyment to be gained from simply relaxing on the grass and people-watching. It's a favorite New York pastime, and it doesn't cost a cent!

Reviews
Sign Up - Family Fun Newsletter
Have fun with great ideas on things to do for travel, daytrips, nearby, or at home...