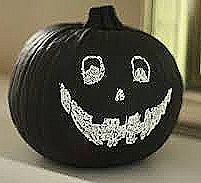 Do you have that child that LOVES decorating pumpkins, but don't want the crazy mess? Or are they too young to cut into a pumpkin?
Sometimes using sharp tools is simply out of the question and we have a quick and easy solution for you: a chalkboard Painted Pumpkin!
I love the flexibility of this idea. You can really show your creative side and have the ability to change up the face daily to show off your mood or scare the neighborhood kids!
All you have to do is follow this quick 'recipe' and you are good to go!
Select a pumpkin from your local farm with plenty of space to decorate.
Paint the pumpkin with chalkboard paint - you can sponge paint or spray paint it. There are several colors on the market now. Have fun with it.
Set aside on newspaper indoors to dry for 24 hours.
Let the fun begin! Use white and colored chalk to decorate your pumpkin!
A micro-fleece rag works great to remove the chalk to start a new 'scary' face!
Finally, this is a fun alternative to carving...it can serve younger, inexperienced kids or children with special needs really well. Hope you have fun with it and hope you can share comments with us if you try it this holiday season.
Happy Halloween!