Children's Museum of Memphis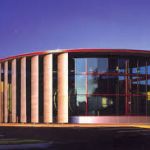 Activity Overview
The Children's Museum of Memphis is an educational children's museum located in Memphis, Tennessee. It features over 30 hands-on exhibits that encourage kids to play and learn at the same time. Children can learn about banking by writing checks and using a real ATM filled with play money, tunnel through the mountains, simulate a tornado with the tornado generator, explore the Mississippi River, and do many other exciting activities at the museum. If you have young children, take them to the Children's Museum of Memphis - they're sure to have a blast!
Things to Do
Visit the WaterWorks! exhibit to learn about the Mississippi River - kids can study fish, build bridges, learn about how water flows, and find out what causes thunderstorms!
Take your toddler to Playscape Park, a special area where children under 4 can safely play with musical toys, explore a castle and tree house, and read books.
Go outside and enjoy the fresh air in the museum's Outdoor PlaySpace, which features a playground designed for children between the ages of 5 and 12. It has slides, climbing structures, a wheelchair-accessible seesaw, and many other fun toys.
Don't miss the H2Oh! Splash Park in the summer! This garden-themed splash park filled with over 40 sprayers of all shapes and sizes is open from Memorial Day to Labor Day, providing kids with a fun, refreshing way to cool down in the Memphis heat.
Children's Museum of Memphis Insider Tips
If you're visiting in the summertime and want to check out the splash park and the museum, save money by purchasing a combo ticket for both! Learn more about admission prices here.
Check out their calendar to learn about special activities taking place at the museum, where your little one can do things like learn a magic trick, practice some basic Spanish vocabulary, or create beautiful pieces of artwork.
Learn more about daily educational programs offered at the museum, which teach children about topics such as art, musical instruments, crafts, folk dances, foreign cultures, math, reading, science, and more!

Reviews
Sign Up - Family Fun Newsletter
Have fun with great ideas on things to do for travel, daytrips, nearby, or at home...