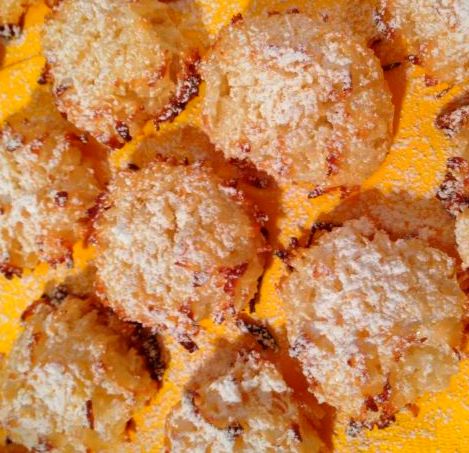 My daughter needed a Cocadas (Coconut) cookie recipe for school. She is studying the country of Panama and this is a traditional recipe from the region.
The Cocadas cookie is a delicious, sweet cookie!
We found a great recipe from Ingrid Hoffmann at the Food Network. We had no idea how easy and delicious these cookies would turn out to be. A new family favorite.
Ingredients
3 1/2 cups shredded sweetened coconut
3/4 cup sweetened condensed milk
2 1/2 tablespoons cornstarch
1 teaspoon vanilla extract
1/2 teaspoon almond extract
1/4 cup confectioners' sugar

Preparation
Preheat oven to 400 degrees F.
In a mixing bowl, stir together coconut, cornstarch, condensed milk, almond extract, and vanilla extract.
Drop heaping rounded spoonful's (using two spoons) onto parchment lined cookie sheet about 1-inch apart.
Watching closely, bake for 15 to 20 minutes until lightly golden brown (they brown up quickly!).
Remove from oven and cool on wire rack.
Using fine meshed sieve, dust with confectioners' sugar.
Store loosely covered until ready to serve.