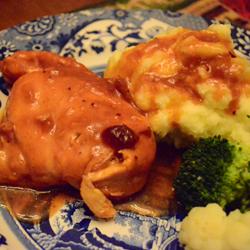 The crockpot is one of my favorite kitchen appliances. It helps me keep my family fed with wonderful home cooked meals I don't have to spend too much time preparing.
Here is a great boneless chicken recipe perfect for those chilly, autumn evenings. Cranberry is an amazing fruit. It's tart and sweet at the same time, we adore them in this dish.
This great recipe is from the Boneless Chicken Recipe website.
What you need
4 chicken breast halves (boneless and skinless)

2 tablespoons brown sugar

2 tablespoons cider vinegar

1 package dry onion soup mix

3/4 cup chili sauce

1 can whole cranberry sauce

Crockpot/Slow cooker
What to do
Put the chicken in your crockpot.
Mix together the sugar, vinegar, soup mix, chili sauce and cranberry sauce.
Pour the mixture over the chicken, making sure it is well coated.
Cover the crockpot and cook the chicken on low heat for about 7 hours, or until it is tender.