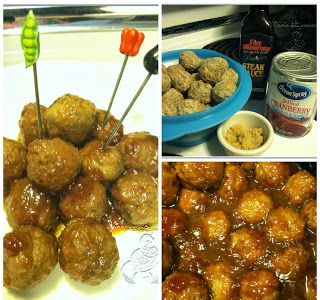 Need a delicious, easy and simple appetizer recipe? We have a good one for you!
This recipe was a hit recently at a party we hosted. This recipe requires only 4 ingredients! These meatballs come together in no time - perfect appetizers for your holiday gatherings!
Ingredients
Cooked Perfect Italian Bite Size meatballs (we used approximately 1 lb of meatballs)
1 can of jellied cranberry sauce
2 tablespoons of steak sauce
1 tablespoon of brown sugar
Preparation
Combine the cranberry sauce, steak sauce and brown sugar in a sauce pan on medium.
Once combined, add frozen meatballs and set burner temperature to LOW.
Cook on low until meatballs are heated through completely.
Serve with toothpicks.