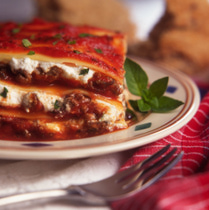 When I first stumbled on this crockpot lasagna recipe , I was naturally very skeptical. How could a lasagna cook properly in a crock pot?
Well, it does and it's delicious!
This is the easiest recipe for busy moms, perfect for a large crowd and super easy to transport to a pot luck.
What you need
1 lb. ground beef
1 lb. of sweet Italian sausage (alternative to the beef)
1 large onion, chopped
2 garlic cloves, crushed and minced
1 large jar (1 lb. 10 ounce jar) of spaghetti sauce
1 package (8 ounces) no-boil lasagna noodles
16 ounces shredded mozzarella cheese
1 lb. ricotta cheese
1 egg
1/4 cup milk
1/2 cup shredded Parmesan/Romano cheese
Salt and pepper to taste
How to Make it
Sauté garlic and onion in a little oil in a frying pan.
Brown (or sausage) the beef and drain off any grease.
Add the spaghetti sauce into the browned meat mixture. Mix well.
In a separate bowl, mix the ricotta cheese, milk, and egg.
Beat until thoroughly mixed and smooth. Then mix in the mozzarella cheese and the grated cheese.
Grease the slow cooker with some vegetable spray on the bottom and sides.
Put about 1/4 of the meat and sauce mixture in the bottom of the slow cooker.
Put a layer of noodles on top of that (break or cut them if needed).
Put about 1/3 of the cheese mixture on top of that.
Then repeat with sauce, noodles, cheese for another 2 layers.
Top with meat sauce.
Cook on low for 4-6 hours or until noodles are tender.