Darien Lake Theme Park Resort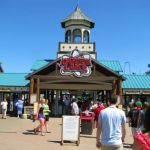 Activity Overview
Darien Lake Theme park Resort is a place where fun never ends, the theme park was opened in 1981 and it features thrilling roller coasters, water rides, kiddie rides, shows and other rides. Darien Lake theme park offers fun and amusement for the whole family, families can avail lodging facilities at Darien lake, there are campgrounds, lodges, guest houses and cabins to rent. The theme park is located in Darien center, New York, and it is open May through October. Season passes are a great way for families to enjoy all that the park has to offer and save some money, too.
Things to Do
The theme park has many attractions and rides, thrill rides and roller coasters include Boomerang, mind eraser, predator, red hawk, twister, viper, ride of steel and many more.
Water rides can be enjoyed by the whole family, beat the heat with Grizzly run, ship wreck falls, and thunder rapids. Grizzly run is perfect for the whole family, hop on a large circular raft, whirl through the water, and enjoy water splash.
Family friendly rides include hornet's nest, moose on the loose, boat docks in midway arena, corn popper, ferris wheel, go carts, bumper cars, carousel, pirate ship ride, driving antique cars in Tin Lizzies, rock climbing and much more.
Little kids can also enjoy riding some rides, such as kiddie bumper cars, riding children sized trucks, weather balloon ride, a mini submarine ride, and mud buckets. Little kids must be accompanied by adults.
The splash town water park features rides that can be enjoyed by everyone, enjoy the big Kahuna, crazy swirl city, and take a dive in the crocodile isle water pool.
There are many world class eat outs and restaurants at Darien lake, Beaver brother's lakeside cafe, pizza in the square, board walk food, campfire grill, crossroads cafe, candy kitchen, Perry's ice cream parlor and Subway to name a few. The General store in Darien square lets you do some basic shopping during your stay.
Many shows and concerts are held at Darien lake theme park. Outside food is only allowed in the campground and picnic area.
Darien Lake theme park resort Insider Tips
Wheel chairs and wagons are available for rent.
Restrooms are available through out the park.

Reviews
Sign Up - Family Fun Newsletter
Have fun with great ideas on things to do for travel, daytrips, nearby, or at home...