Disney World is a magical place for families, and we have found three book recommendations for your next trip.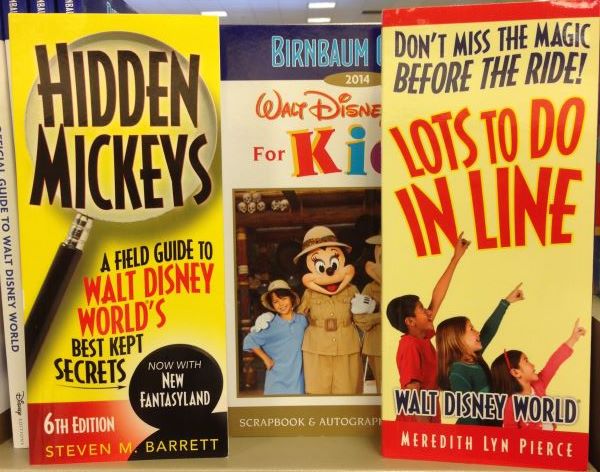 These books are great to keep parents and kids engaged in the Disney World experience, it's surroundings and offer tips on having fun in line, yup - in line!
Hidden Mickeys
Did you know there are "Hidden Mickeys" at Disney World? All over the parks are partial or complete images of Mickey Mouse that have been hidden by Disney Imagineers and artists.
If you are observant enough you will see these hidden features at attractions, hotels, restaurants and other surprising places blended into the surroundings. This successful book by Steven Barrett, is filled with scavenger hunts, clues and hints to get you started on this very fun adventure of finding Mickey Mouse. Hidden Mickeys by Steven Barrett is a must-have on your next trip to Disney World.
Fun Kids Guide
Walt Disney for Kids by Birnbaum Travel Guides is a guidebook for kids.
Disney is becoming one of those important rites of passage trips you take with your kids. Kids want to be involved in the planning and details.
The book is perfect for kids! It has dedicated chapters with Disney's history, cool photos and engaging images, insight from young readers, and places for autographs in the book.
Long Line Boredom Buster
Many folks say that the lines at Disney World are the single biggest drawback to a Disney Vacation. I must say, I completely agree. But now this daunting, inevitable task can be fun.
The book, Lots to Do in Line by Meredith Lyn Pierce is creative way to pass the time in line. The book is an organized scavenger hunt for all areas of the park. It has suggestions and checklists for each ride and attraction.
All you need are your eyes and the book and you are ready to play and soak up your surroundings
.