Disneyland Resort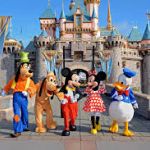 Activity Overview
The Disney land resort is an entertainment resort in California, Commonly known as the Disney land, this theme park is owned and operated by the Walt Disney company. The popular Disney land resort has two theme parks, shopping and dining complex and downtown Disney. Disney land resort is popularly known as the center of happiness and it is one of the best places in the world for family recreation and entertainment.
Things to Do
Disney land theme park is a dreamy place to be, take a slow ride into the Alice and wonderland fantasy land, enjoy meeting wonderful characters. Chip n dale tree house, The Disney gallery, Disney land railroad, Tarzan's tree house, Goofy's play house are exciting places to visit and meet animation characters.
The park features enjoyable rides including, haunted mansion, big thunder mountain railroad, Astro blasters, Casey Jr. circus train, Donald's boat and thrilling rides such as, California screaming, Indiana Jones adventure, and many spinning rides for all age groups.
Meet Pooh, Micky mouse and Minnie mouse, Peter pan, Pinocchio, snow white and many more characters. There are thrill rides, slow rides and water rides, rides are designed for children of all ages.
Big thunder ranch lets your kids meet and interact with the animals. Animation academy is a fun place to be for kids of all ages.
Kids can meet many special characters, including captain America, Aladdin, all Disney princesses, Movie Frozen characters, Tinker bell, Pirates of the Caribbean, Thor and many more.
A Christmas fantasy parade features all Disney characters. There are colorful lighting shows, fireworks, parades, music and much more entertainment for the whole family.
There are many other amenities at the Disney Resort, there are spas, game arcades, fitness centers, pools and cabanas.
There are many stores to buy gifts, souvenirs and apparel from, the Lego store, candy stores, Sephora, D-street, boutiques, Fossil, ESPN store and many other exciting shopping outlets offer lots of products for the whole family.
Bengal Barbecue, big thunder ranch barbeque, blue Bayou restaurant, cafe Orleans, crossroads, the golden horse shoe, Goofy's kitchen, Plaza Inn, steakhouse 55 and many other top rated restaurants offer casual to fine dining options.
Disney land Resort Insider Tips
Annual passports let you pay in installments and enjoy many discounts.
Wear sunblock.
Outside food and drinks are allowed.

Reviews
Sign Up - Family Fun Newsletter
Have fun with great ideas on things to do for travel, daytrips, nearby, or at home...