Easiest Muffin Recipe Ever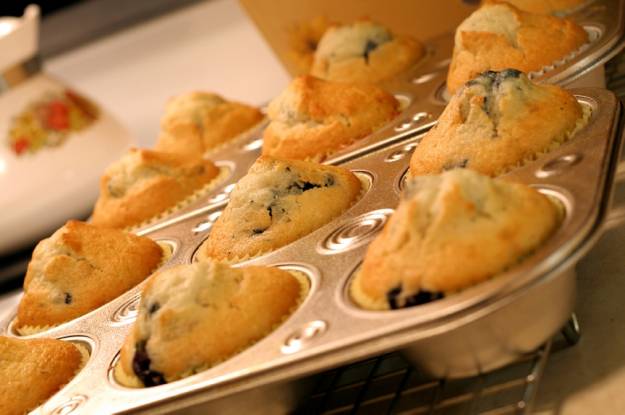 I have tried many recipes, but this one is probably the most popular one I've ever written for busy families.
You can change it up anyway you like, but you will have a recipe that you can prepare without much thought for those unexpected guests or the last minute bake sale at your child's school.
Ingredients
1 box carrot cake mix (vanilla works, too)
1 can pumpkin
Add ins optional - raisins, walnuts, or chocolate chips
Preparation
Make the cake batter according to directions on the box.
Mix in the can of pumpkin.
Pour batter into muffin tins, prepare tin as you normal would.
Bake at 350 degrees for 15-20
We hope you like this easy recipe!
Reviews
Nina P.
I believe the directions are incorrect. You mix dry cake mix with 1 can of pumpkin. As I stated in an earlier post, I generally mix one dry cake mix with one can of diet soda. I love a lemon cake mix and one can of diet Mt. Dew. My grandchildren love it!! Add a little cool whip and it's delish!
Julie W.
I use a chocolate cake mix, add can of pumpkin and either peanut butter chips or butterscotch chips. Very good and low calorie!!!
Claire H.
Do this alot..for those questioning taste, no they do NOT taste like pumpkin, No you do not add eggs or anything else, we like chocolate cake with a can of pumpkin, you can make a light glaze if you want to but not needed. It's great for a quick treat and a cup of tea, coffee or glass of milk!
Monica S.
I tried this with the applesauce as some users had suggested, and it was sticky, sticky, sticky. Too hard to drop into the muffin cups. Not to mention, it tasted like Blah yellow cake. I'd probably stick with the pumpkin.
Karen H.
How much applesauce?
Beverly M.
Great ideas thanks also on look out for fast easy and good recipes
Nina P.
You can add a little less than one can of soda to a box mix (that all nothing else needed) and make a cake or cupcakes. Delish. I use combo of diet Mt. Dew with lemon cake mix, or diet coke with chocolate mix.
Monica J.
Do you still need the eggs and oil?
Terry P.
These were so easy and so good! I used a carrot cake mix (dry) and small can of pumpkin. I added raisins and walnuts.
Kathy N.
I used athe spice cake mix, added 1 cup of rasins and 1/2 cup of choc chips....wonderful..and soooo easy. My co-worker told me about this & she used a small can of pumpkin...I used a large can & had to bake the muffins for 25 min. My husband never knew that they were low fat.
Mary H.
Is there any variation for say - apple sauce and yellow cake? Pumpkin is not my favorite.
Julia S.
I just apple butter. Delicious!
Carol G.
An it's only 2 points for weight watchers. I also use applesauce and 1 box of yellow cake mix and it's YUMMY Too. I also use vanilla cake mix with pumpkin and sprinkle with powder sugar for and extra treat.
Bj H.
Does it work in small foil bread tins?
Bonnie C.
This is the same recipe I was given for homemade pumpkin chocolate chip cookies. They are so expensive in the stores nowadays. I love this recipe it is so easy.
Jennifer F.
I use Betty Crocker carrot cake mix and a small can of pumpkin. When you use the small cupcake tins they are only one point for Weight Watchers; however, it is difficult to eat just one!! This way the recipe makes 36 small muffins.
Jen H.
Do NOT make the cake first - just mix the dry cake mix with a small can of pumpkin. Freezes well, too.
Carolyn B.
You can microwave a large sweet potato and mash it up to replace the canned pumpkin---it works just as well---can't tell the difference!
Jeanne B.
Believe it or not, It is also very good with chocolate cake mix
Sandy Shepard S.
Just found this muffin recipe..again..do you make up the cake mix first or just use the dry mix? thanks. Sandy