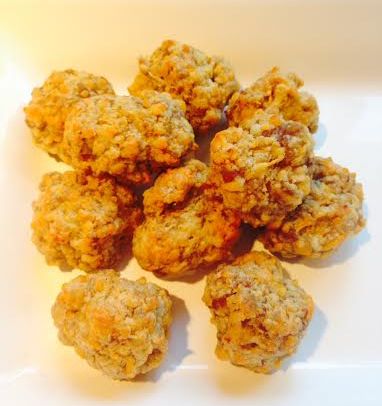 Growing up. I was always thrilled when my mother made Bisquick Sausage Balls. This great recipe was right on the back of the box and it was truly a family favorite.
Today, I make sausage balls for various potlucks and parties or when we are planning a snack attack night. It doesn't take long to make sausage balls, and they are a fast favorite of everyone I make them for.
Ingredients
2 cups Bisquick
1 pound Jimmy Dean sausage
8 oz. pack of shredded cheese
Preparation
Put everything in the bowl and mix. This is easiest to do with your hands.

Roll the mixture into balls, a little smaller than golf balls.

Place the sausage balls at least 1/2 inch apart on a cookie sheet.

Bake at 350 degree's F for about 20 minutes.

The Bisquick balls should be lightly browned with the meat cooked through.

The cheesy sausage balls can be reheated in the oven or the microwave.
Find more great family-friendly recipes in our Recipes section.