Activity Overview
Visitors tour replicas of the Senate Chamber and Sen. Kennedy's office, participate in live debates on the Senate floor, and use digital tablets to engage with exhibits. At the Institute, people learn about the work that Senators really do and practice the skills needed to be successful.
It was founded by and named after Senator Edward (Ted) Kennedy (D-MA), who believed that it was important for citizens to learn about the Senate.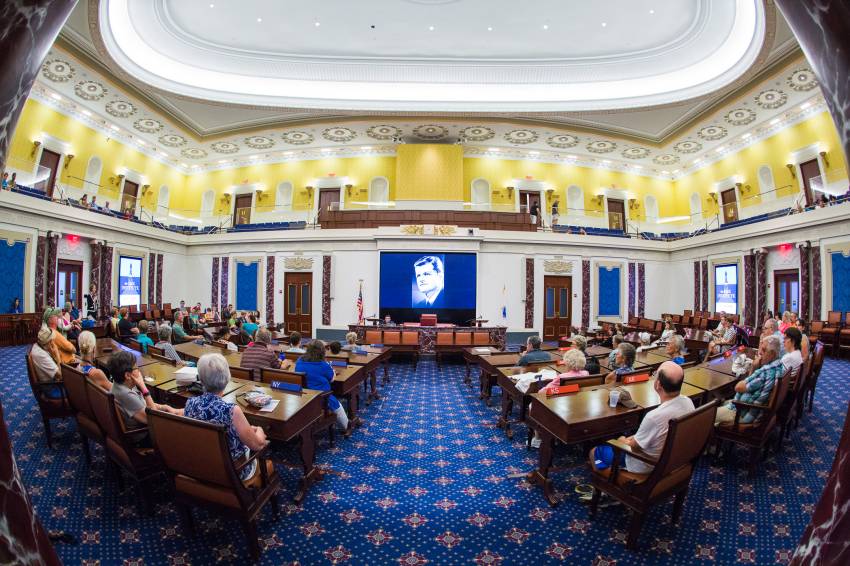 Things to Do
If you have a child between the ages of 5 and 8, ask about the Junior Senator program, which provides young visitors with a pack that includes an activity book related to the exhibits and allows them to receive a reward at the end of their visit.
Explore the life-size version of the U.S. Senate Chamber, where you can learn about Senate history from exhibit interpreters and participate in programs such as Today's Vote, which allows you to vote on a bill.
View the various exhibits, which include a replica of Senator Ted Kennedy's office, an introduction to the Senate, an explanation about how a bill becomes a law, and highlight numerous historic milestones that have taken place in the Senate.
Visitors can explore the institute's exhibit halls, including a replica of the U.S. Senate Chamber, and learn all about its fascinating history through various educational programs.
Edward M. Kennedy Institute for the United States Senate Insider Tips
To reach the institute using public transportation, take the MBTA Red Line to JFK/UMass station and then hop onto Bus #2, which is a free shuttle bus that stops in front of the building.
Attend one of their family-friendly public programs, which focus on topics related to both history and the government.
Don't miss the People Who Made a Difference exhibit, which focuses on inspiring individuals who have influenced civic life in the United States.