Entertrainment Junction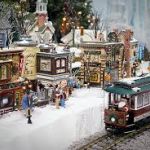 Activity Overview
Entertrainment Junction is rated as Ohio's best family entertainment center, it is located in West Chester, Ohio. A rail road themed entertrainment junction that features largest indoor train display with 90 trains depicting different eras of American railroading. The "imagination junction" is a large play area where children can play around and have a fun-filled day. It is a great family oriented fun house that includes an imaginative railroading museum and enjoying a train ride.
Things to Do
Have fun at the world's largest and best rated indoor train display, see and explore 90 trains over an area of 25,000 square-foot, depicting US train and railroad history. Trains travel around hand-crafted miniature cities, towns, factories, mills, tunnels, bridges, from oldest steam engine trains to fast subway trains.
An amazing replica of Coney island amusement park that features a shooting star roller coaster, and the Ferris wheel, flying rocket, sky ride and many more. The train and ride displays are interactive, children can make the rides go, make lights blink and play music.
Kids love to visit the imagination junction, it is a 5,000 square-foot railroad themed play area with colorful and interactive play structures, including a toddler's area. Children can climb and bounce, crawl under tunnels, run trains and do many fun-filled activities in the play area.
The American railroad museum is informative for both adults and children and lets you explore the history and development of railroad system in the US.
"A maze and fun house" features very entertaining features such as the unique mirror maze, a spinning vortex tunnel, hilarious tilt room, the Ames room, the crazy clown college, the curtain maze, an endless corridor and much more.
Entertrainment junction offers special birthday packages for the families.
Enjoy scrumptious delights at the Junction cafe, it offers hot dogs, nachos, sandwiches and much more. Shop for wonderful gifts at the West Chester station gift shop and Junction hobbies and toys.
Entertrainment Junction Insider Tips
It is wheelchair and stroller accessible.
You can buy tickets online.

Reviews
Sign Up - Family Fun Newsletter
Have fun with great ideas on things to do for travel, daytrips, nearby, or at home...