Escape the 1980s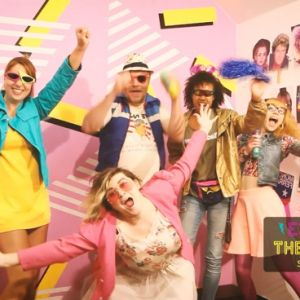 Activity Overview & The Experience
Escape the 1980s is a thrilling, interactive, "escape the room" game nestled in the heart of Philadelphia! Players don't necessarily need to know anything about the 1980's to play or win.
Besides the awesome 1980's theme, one of the best and most unique things about this venue is that this game is huge! It's four rooms to one team and only one game is run at a time. The staff is completely focused on every movement every player makes through the game, and really consider themselves "experience curators".
Teams have 60 minutes to use codes, clues, music and retro tech to get "back to the future" by traveling through a series of 80's themed rooms. From hacking into a War Games computer...to playing Atari to find clues...everything players do involved something from the 80's. Private party events hold up to 42 players (perfect for team building!)
What People Love About Escape the 1980's
Fun & Silliness - Unlike a lot of other room escape games, this game feels more like a party. The team spent months creating an experience that takes into account every player and they created spikes in key moments throughout the game. There are even "easter egg journeys" that are just plain fun. (i.e. Players can win free beer if they find certain things). If everyone is dancing, if their eyes are sparkling, if the team is laughing - the Game Mastery knows they've succeeded.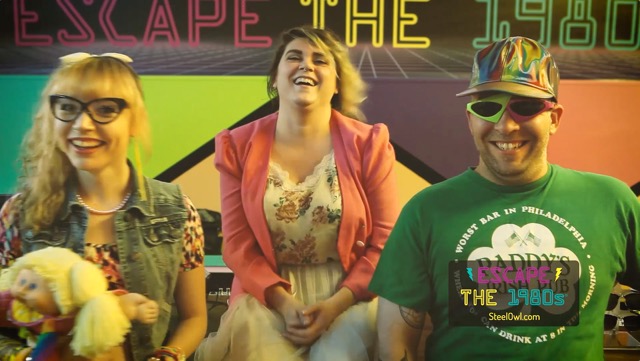 Lightweight Theme & Universality - Players feel like they're 7 years old. Escape the 1980's is a whimsical experience, where players lose touch with reality and run around acting like they're 7 years old. Not 16. Not 18. We really mean 7 years old. You'll go back in time, lose all your inhibitions and dance around, sing, scream and laugh. (Honestly! Even men do this!). The game makes you feel like you've halted the aging process and stopped time for an hour. Most players dance their way through the game.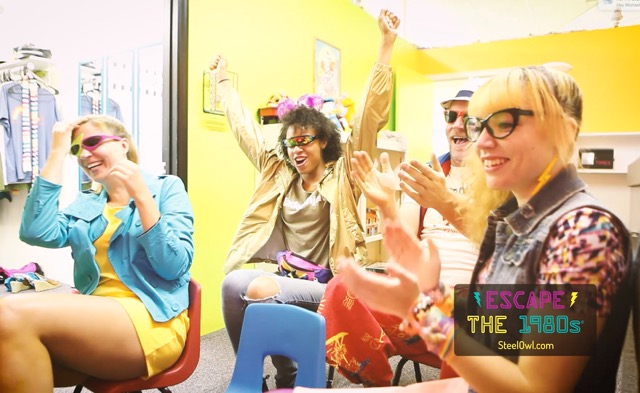 Universal Appeal - The other cool thing is that the game appeals to every generation, so team building groups can bring 25 year old Carson and 50 year old Peggie - and they both have the same amount of fun. This is an activity that bonds different generations and was designed for universality. In other words… both you AND your mom would have the same amount of fun! The venue hosts a ton of birthdays, bachelor/bachelorette parties, team building games, friends nights out etc. Escape the 1980's prides itself as a drinking alternative. You can have a blast without a drop of alcohol.
Things to Do & The Experience
Dressing up! MOST groups arrive in some sort of 80s attire which really adds an extra layer of fun. Visitors love it and the staff loves it. 50 year old women come in Tutus, and 25 year olds crimp their hair. They've even had full Ghostbuster squads play their game. Escape the 1980's gives players an excuse to take it to a whole new level and people plan entire nights around this event.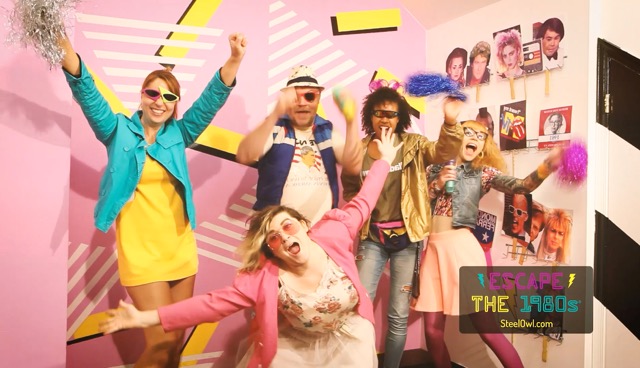 The 80's Decor & Technology - What's not to love?! All of the rooms are themed to the 80s (realistically) with bright colors that were only around during that decade. And, although players don't need to know anything about the 80s to play, they do have to interact with old school technology in order to unlock rooms. For example: Players (literally) have to play Atari to unlock a clue. (This is excellent!). You'll have to interact with an old school commodore 64. The tech is a lot more involved then most of the other games, because the creators used arduinos and raspberry pis so that it FEELS like you're interacting with old school technology, but in reality they can see everything from their central command system.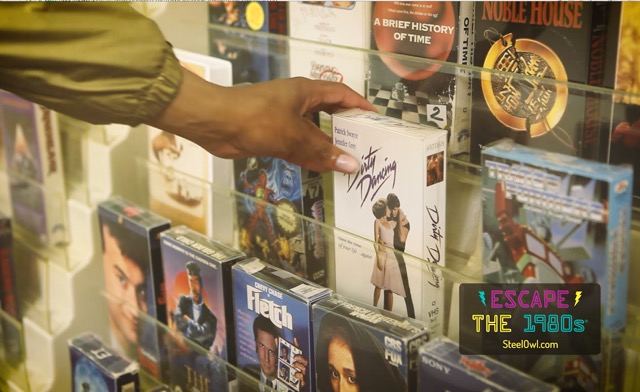 The Film Clips - At the heart of this game are clips from classic 80s films and a video store that brings players back in time. Players leave wanting to watch 80s movies and loving that they had to do actions from these little clips in order to make their way through the game.
Family Games (for kids!) - These are times just for parents with kids under 16. Regular games are designed for players ages 16+. Family games are exactly the same, but the crowd is age appropriate and compatible. (no cursing etc.)
The Retail & Party Room - So I'm just going to say it: They sell Fanny Packs. They have a little retail section at the end that just makes it fun. It's not a huge profit gain, but people love seeing it. They also sell 80's pins (The owner's 13 year old son makes them with all kinds of 80s images.) They also have 80s socks (including Mr. T), Sunglasses (that are seriously 80s) and photo prints in a magnetic frame.

The Lobby is packed with old school 80s stuff, including dozens of Cabbage Patch Kids, Barbies, Cracked magazines, and old board games like Mall Madness. Their party room is club style with tons of games, 2 large screen TVS, "control your own lighting" (you can make the room any color you want), 80s music, Atari and Nintendo on a big screen TV. A lot of people also do 80s karaoke back there, and the facility can accommodate that.
The Photos - At the end of each game, the staff takes high quality photos of each team and they go instantly up on Facebook. In the photo room, the facility has a big screen TV monitor that allows players to see themselves posing. Every person WILL look 80s by the time they leave this game. Everyone succeeds. They may not do it in 60 minutes, but they're still on the A-Team.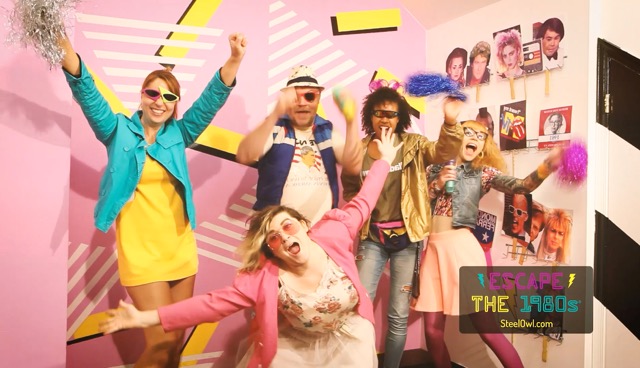 The Staff - There is a very heavy focus on customer service here. The hiring sign has one requirement "You must be a fun person". The staff loves their jobs and Escape the 1980's makes sure of that by creating a seriously fun environment for them to work in. The staff comes to work decked out in the 80s and they do everything possible to host the guests.
Escape the 1980's Insider Tips
Listen to the MUSIC - With our game, there's a clue in the main refrain of every song (except for the instrumentals)
LOOK IN THE FREEZER. Enough said
Scream out what you find - There will be players in other rooms and they need to know what you're seeing
Save 10% when you buy tickets with discount code: TIPSPOKE
Do not try to study - There's nothing you can do in advance
Other Notes:
5-Star Rating - Escape the 1980's is a top rated escape room in Philadelphia. They were a Top 20 pick by USA Today, and have a solid 5-star rating (with hundreds of reviews) across all the review sites - Yelp, Tipspoke, TripAdvisor, Google, Facebook and room escape review sites.
Publications & Seminars - The owner, Elisabeth Garson, wrote a book called "How To Open Your Own Room Escape" and a Workbook called "Write your own room escape game", both of which sold out. She's also given five seminars on room escapes and reality experiences and is part of the TransWorld advisory board.

Reviews
Sign Up - Family Fun Newsletter
Have fun with great ideas on things to do for travel, daytrips, nearby, or at home...