Lumi-Niter Flying, Glow Stick Disc
Lumi-Niter flying disc puts a creative twist to a classic frisbee toy. This cool new product will make any evening outdoors a lot of fun because it allows you to continue to play games when it gets dark. The frisbee-like disc has 4 slots on the top to insert glow sticks. Each disc includes 16 glow sticks in the package to get you started. Just pop them in and you are ready to go.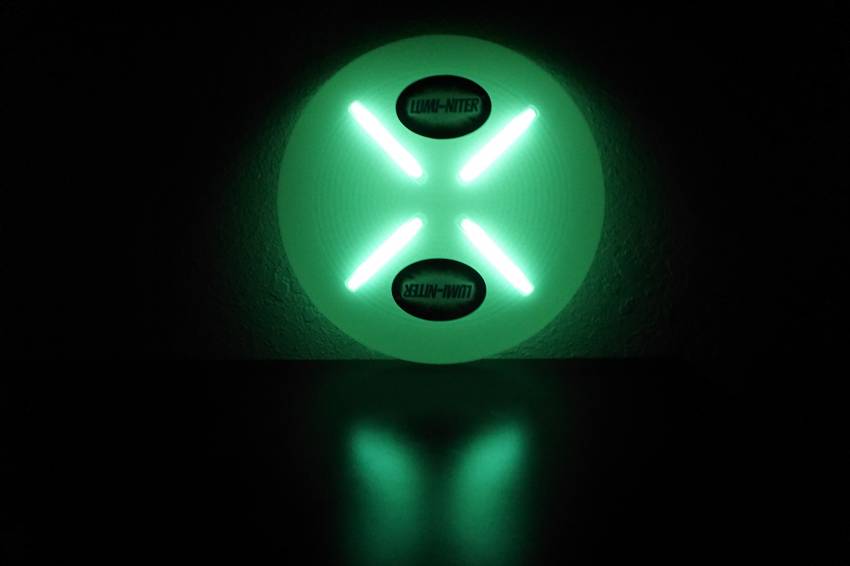 The disc immediately starts to reflect the glow as a result of the glow sticks, and allows you to clearly see & toss it around in the dark. The rotation when tossed properly makes it look like a cool flying saucer. You can choose to use 1 color glow stick or try 4 different ones for different glowing effects. The disc itself is not glow in that dark - but once you activate and insert the glow sticks they will last for up to 8 hours so you'll be ready to go.
Dusk is the perfect time to bring this out. You can toss it back and forth - or even have distance wars to see who can toss it the farthest. Use it at the beach at twilight, or even in the pool - it's waterproof!
Creative note: We actually came up with the idea to put some glow sticks into some clear plastic water bottles to make "lanterns" and circled them up to make "targets" to toss into. (The glowsticks shown in the bottles below are larger than the ones used in the Lumi-Niter, however thin ones would work fine too). We made 2 circles of glowing bottles about 10 feet apart and then stood back and see who could toss their glowing Lumi-Niter into the center first.
Lumi-Niter would make a unique gift or party favor, and once acquired will most certainly become a staple for outings. Tailgates, beach parties, after game gatherings, picnics, you name it. The only caveat is that you'll need to stock up on glow sticks - but it seems that most glow sticks would fit just fine so grab 'em when you see them you'll be all set.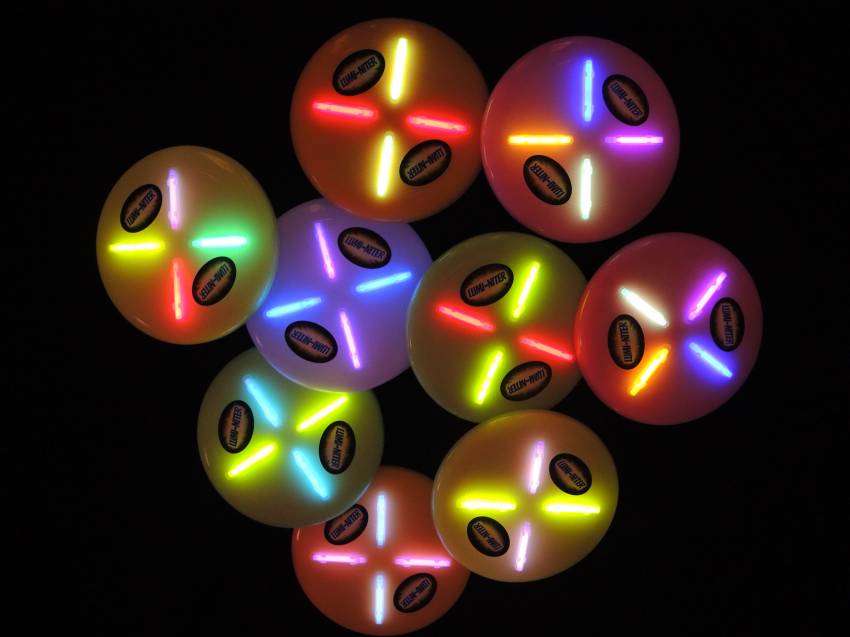 Disclosure: TipSpoke was given a Flite by Nite disc to review, and our review team had a really good time tossing it around after hours. In a nutshell - we like it!