Folsom Lake State Recreation Area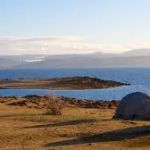 Activity Overview
Folsom Lake State Recreation Area is a state park in the foothills of the Sierra Nevada mountain range that is about an hour's drive from Sacramento. The over 19,500-acre park surrounds beautiful Folsom Lake, a reservoir that was formed by the damming of the American River in 1955. It has facilities for boating, camping, cycling, horseback riding, hiking, fishing, swimming, windsurfing, and more, making it the perfect place to take the whole family for a weekend of fresh air in the great outdoors.
Things to Do
Go fishing! Make sure anyone 16 or older has a valid California fishing license, and then head out into Folsom Lake to catch bass, trout, catfish, sunfish, bullhead, and crayfish! Learn more here.
Head to Granite Bay in the summertime - this sandy beach is a popular swimming area that provides lifeguard services in the summer. It also has plenty of space for sunbathing and playing beach volleyball.
Go for a relaxing family hike on one of the park's many trails - there's plenty of wildlife to be seen, including gray foxes, black-tailed deer, opossums, and the occasional bobcat or mountain lion!
Folsom Lake State Recreation Area Insider Tips
Spend the entire weekend soaking in nature by taking advantage of the park's many campgrounds! One of its most popular camping areas is Beal's Point, which also has barbecue pits, a bike trail, and a snack bar that rents beach equipment such as rowboats and pedal boats.
Bring along some binoculars and a bird guide and go bird watching! It's a great way to teach little ones about the diversity of local bird species, including red-tailed hawks, quail, scrub jays, kingfishers, eagles, and ducks.
Visit the park's website to learn about upcoming special events, including bass fishing tournaments, races, regattas, horseback endurance rides, and educational programs.
Be safe - follow the park's water safety rules by only swimming at designated beaches and always wearing a life jacket when doing water activities.

Reviews
Sign Up - Family Fun Newsletter
Have fun with great ideas on things to do for travel, daytrips, nearby, or at home...