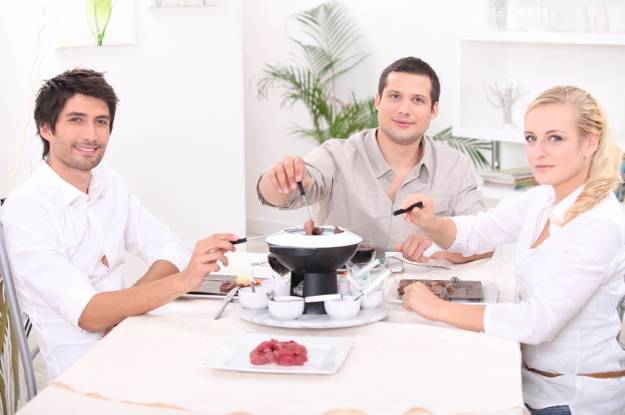 My parents hosted fondue parties in the '70's. I was sequestered to the T.V. room with all the kids, but would come out every once-in-awhile to check out the festivities.
I mentioned these fun "foodie" memories to my mother-in-law and she gifted me an All Clad Fondue pot for my birthday. To say I'm excited to host my very own party is an understatement!
Come along and be a part of my planning. Do you host fondue parties? Share your tips in the comments section!
Fondue parties are actually one of the easiest parties you can host. Because it's all in the preparation. You will actually get to enjoy this dinner party!
Fondue Party 411
Invite Guests. Typically these parties are intimate. You can have four people per one fondue pot, but you could get away with 6.
Select the Courses. A traditional fondue party starts with cheese, moves on to the meat fondue with dipping sauces and ends with dessert of chocolate fondue. Some parties only do the cheese and chocolate portions!
Set up Stations. Borrow several fondue pots from friends so you can set up different fondue courses to make things go smoothly.
Purchase Party Items. Get a heavy table cloth to put underneath all the pots for spills. Also invest in small sized plates - each guest will need several.
Fondue Course Explained
Cheese Fondue Set up. Place cheese fondue pot in the middle of a table. Cut up bread chunks, veggies, and other items you like to dip. Arrange your color-coded forks at this station.
Fondue Party Table. The meat fondue area should be supplied with small bowls filled with bite-sized chicken, beef, or seafood. Have regular forks as well as fondue fork. Have paper towels on hand to blot off excess oil from the meat.
Fondue Chocolate Table. This area is the most fun. Chocolate can be accompanied by mini-chunks of pound cake, mini-brownie bites and fruit, like strawberries. Make sure you have enough small plates and napkins for everyone.
Party Preparation
Create some ambiance. Get the house ready for a party. Light some candles, play some music, light a fire.
Prepare the Fondue. Just about 15 minutes before your guest arrive transfer the fondue from the stove to the fondue pot. Get all the dipping ingredients out right before you start cooking fondue with your guests.
Familiarize your guests with the process. Explain the rules of fondue etiquette to your guests. Fill them in on the fun traditions of fondue.
The fun part of a fondue party is that it's communal cooking. Just having one will make guests mingle together and do something together. It typically is a very cozy and unique party and people will have a lot of fun.