Fresno Chaffee Zoo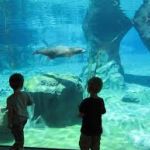 Activity Overview
The Fresno Chaffee Zoo is one of the most popular tourist attractions in Fresno, California. This exciting animal attraction features a seemingly endless list of animal exhibits that will amaze and delight visitors of all ages. The zoo also has daily demonstrations that allow visitors to learn about and interact with various animals, such as giraffe feedings, bird shows, and sea lion talks. If you love animals, head to the Fresno Chaffee Zoo to see your favorite animals and exciting species like coatis and servals that you may not be familiar with.
Things to Do
Explore the zoo! It's home to dozens of fascinating species, including orangutans, tapirs, tortoises, lemurs, and frogs.
Attend a keeper chat! Zoo keepers give informative talks on various animals each day, including zebras, elephants, sea lions, alligators, flamingos, tigers, and sharks.
Learn all about birds and their natural behaviors by going to Ross Laird's Winged Wonders Bird Show, a free-flight bird show which is offered during warmer months.
Fresno Chaffee Zoo Insider Tips
If your child loves animals, give them a birthday to remember with a zoo birthday party! They offer party packages that include two hours in the Jungle Bungalow party area, zoo-themed decorations, zoo admission, and the chance to visit Stingray Bay or feed the giraffes!
Check out the zoo's calendar to learn about special events you and your family can attend, including camps, behind-the-scenes tours, fun-filled fundraising events, and more.
Don't miss your chance to feed the giraffes! Take your child to the giraffe feeding station during your visit and watch their eyes light up as they feed these majestic creatures. Feeding the giraffes costs $2 per person, or $5 per person if you want to get your photo taken with the giraffe too.

Reviews
Sign Up - Family Fun Newsletter
Have fun with great ideas on things to do for travel, daytrips, nearby, or at home...