Great American Ball Park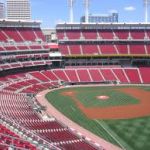 Activity Overview
Great American Ball park is a baseball stadium that is the home field of the Cincinnati Reds. The baseball stadium is located in Cincinnati, Ohio, and it will host the 2015 major league baseball all-star game. The Cincinnati Reds hall of fame and museum is located adjacent to the ball park. Many special events are held the ball park, the venue can be used for many private events and weddings. The stadium is a great place for the families to watch a baseball game as it has a very family friendly, safe and clean atmosphere.
Things to Do
Families can take the great American ball park tours, the guided tour will take you through Crosley terrace, press box, seating bowl, Crosley room, Ohio champions club, major league dugout, a walk on the warning track, diamond club and riverfront club. The tour guide will share lots of information, the tour also includes a visit to the Cincinnati Reds hall of fame.
The hall of fame and museum displays many exhibits, the museum showcases 145 years of Reds baseball history, exhibits feature jerseys, playing equipment, and memorabilia.
Concessions stands are present through out the ball park, The machine room grille restaurant offers a variety of snacks and other items, such as hot dogs, salads, sandwiches, burgers, steak and chicken. Families can bring in snacks and water.
The ball park has a kid's play area and a batting cage for adults.
Celebrate your kid's birthday with a Cincinnati Reds birthday package.
The Reds team shop is open year-round and stocks many exclusive gift items, shop for the Reds gear including caps, jerseys, shirts and much more.
Great American Ball Park Insider Tips
Restrooms are available.
Visitors can bring cameras.

Reviews
Sign Up - Family Fun Newsletter
Have fun with great ideas on things to do for travel, daytrips, nearby, or at home...