Long cold winters can really dry out your hands & skin. If you are at your wits end and looking for a new remedy, this is a great list of recommendations & tips.
We took a poll asking what people's favorite go-to cremes & lotions were and this is a great list that we came up with: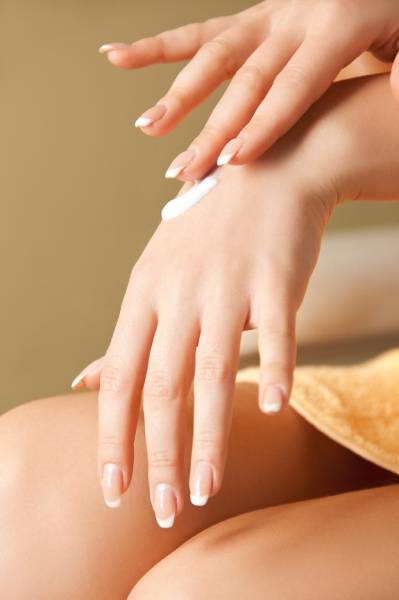 Eucerin and Aquafor are great for dry skin. Forego perfumes for healing power.
Aveda advanced care immediately after getting out of the shower
Aveeno Active Naturals Skin Relief Moisture Repair Cream
MAC Mineralize Charged Water Face and Body Lotion
Add Mineral Oil to an bottle of Jergens
Cerave lotion (pump bottle with blue/white label - just regular, not the facial lotion) throughout the day and Cerave cream (jar with blue/white label) at night right before bed.
Neutrogena body oil, the light sesame kind. I use coconut oil on my face and love that too.
Cetaphil
Shea Butter
Aveno baby lotion, burt's bees mama belly lotion-super thick and rich and smells yummy.
Melaleuca, works even better than the stuff my dr prescribed
Coconut oil is my jam. I smell like a piña colada but I love it.
Crabtree & Evelyn Hand Therapy
Corn Husker's Lotion, and Bag Balm. Definitely not glamorous, but both are amazing. They were developed for farm workers (corn farmers, and dairy milkers) whose hands would stay cracked and bleeding. Generally available at a regular drugstore.
Arbonne - that's what I use it's expensive though
o'keefe's working hands and feet. love it
If you have one, run a humidifier. I set ours at 40% and it really helps more than anything:)
Curel keeps my skin moisturized the full 24 hrs
Some other people suggested making your own Body Butter with this easy recipe:
Whipped Body Butter Recipe
An easy DIY recipe for homemade cloud-like body butter that is excellent for any skin type and completely natural. Author: Wellness Mama Recipe type: Beauty Ingredients
½ cup Shea Butter
½ cup Cocoa Butter or Mango Butter
½ cup Coconut Oil
½ cup light oil like almond, olive or jajoba
Optional: Essential Oils for scent- I like using 10-30 drops depending on the essential oils used. Peppermint and Citrus/Lavender and favorites at our house.
Instructions
In a double boiler or glass bowl, combine all ingredients except essential oils.
Bring to medium heat and stir constantly until all ingredients are melted.
Remove from heat and let cool slightly.
Move to fridge and let cool another 1 hour or until starting to harden but still somewhat soft.
Use a hand mixer to whip for 10 minutes until fluffy.
Return to fridge for 10-15 minutes to set.
Store in a glass jar with a lid and use as you would regular lotion or body butter. If your home stays above 75 degrees, it may soften and need to be kept at the fridge, but it will stay whipped at a temperature lower than that.
Enjoy!