Greater Des Moines Botanical Garden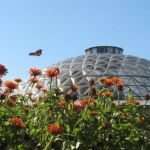 Activity Overview
Greater Des Moines Botanical Garden is a home to fascinating and beautiful plant species, where visitors come for exploration, education and entertainment. The 13.5-acre botanical garden is located in Des Moines, Iowa and features beautiful indoor and outdoor gardens showcasing temperate and tropical flora from around the world. Art and sculpture by renowned artists adds to the beauty of the garden. Families can enjoy seasonal events and gardening classes at the Botanical garden.
Things to Do
Visit and explore a variety of unique and colorful plant collection in the botanical garden, see Amaryllis, Bonsai, Orchid and Coleus plant collection. Immerse yourself in the beauty of the plants and the colorful flowers.
The 80 feet tall dome shaped conservatory features indoor gardens with varied plant species. See the desert garden featuring Cacti and other succulents. The tropical garden features a waterfall and plants including the star fruit tree, tapeworm plant, chenille plant, palm tree and Christmas Poinsettia.
The outdoor gardens feature an array of colorful plants, featuring Conifer and gravel garden, hillside garden, celebration lawn and garden, riverside garden and rose garden. The outdoor gardens can be used for public gatherings.
Several family-oriented events are held at the botanical garden, family workshops include miniature gardening, Garden growers event includes a variety of crafts and activities, Story sprouts event features songs, stories, puppets and more.
Cafe Trellis serves food made of locally sourced ingredients, enjoy soups, pastas, salads, sandwiches, and cocktails, Kid's menu includes Pasta with cheese, grilled cheese and chips.
The garden shop stocks interesting collection of gifts, home and gardening items, and children's books and toys.
Greater Des Moines Botanical garden Insider Tips
The facility is wheelchair accessible.
Photography is allowed.

Reviews
Sign Up - Family Fun Newsletter
Have fun with great ideas on things to do for travel, daytrips, nearby, or at home...