Happy Hollow Park & Zoo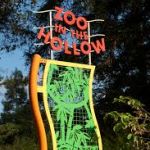 Activity Overview
Happy Hollow Park & Zoo is a small amusement park and zoo in San Jose, California. Its many attractions include amusement park rides, a puppet theater, a petting zoo, a play area, and numerous animal exhibits that are sure to keep your family entertained for hours.
Things to Do
Explore the zoo exhibits, which are home to animals such as pygmy goats, capybaras, lemurs, meerkats, miniature horses, jaguars, and squirrel monkeys.
Visit the eye-catching Crooked House, learn about animal care at the new animal hospital, and view the public artwork in the Entry Plaza.
Take your little one to the Redwood Lookout, a huge play structure with swings, slides, ropes, and climbing structures as well as a special toddler area.
Relax with your family as you enjoy a performance at the puppet theater.
Go for a spin on fun rides like the carousel, roller coaster, and dragon ride.
Happy Hollow Park & Zoo Insider Tips
Don't miss the Lemur Woods Exhibit, where children can play right next to an exhibit full of lively lemurs!
The zoo has tons of fun educational programs for children of all ages, including girl scout programs, sleepovers, classes, and camps.
There are plenty of ways to reach the park using public transportation, including trains, light rail, and buses. You can learn more about the fastest ways to reach the park here.

Reviews
Sign Up - Family Fun Newsletter
Have fun with great ideas on things to do for travel, daytrips, nearby, or at home...