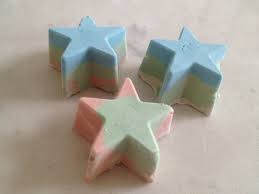 Making Chalk is so easy! It's an activity that is so fun to make with your kids. The only drawback is that you have to wait for this to fully dry before you use it, but it's so worth the wait.
What You Need
1 cup Plaster of Paris
1/2 cup water
2-3 tbsp tempera paint
Behind the scenes with molds: You can use just about anything around the house like: candy molds, paper cups, toilet paper tubes with tinfoil at the end, and muffin tins. Have fun with it!
What to do
Mix Plaster of Paris and paint.
Add water and mix well.
Pour into molds and let dry for 24 hours.
Remove from mold and let air dry for 2-7 days, depending on size.
Note: Make sparkly chalk by adding 1 tsp glitter into the plaster mixture.
Double Note: Be sure to be patient as the chalk does need plenty of time to harden and set before you use them. Take a look at our article about Chalkboard Paint Uncovered!