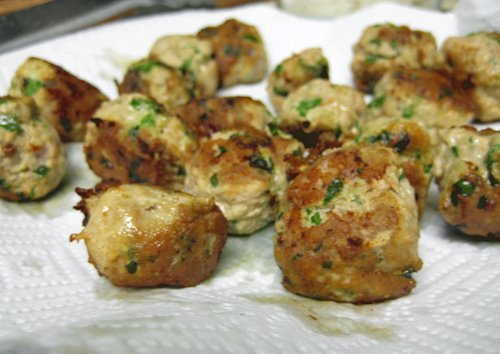 We adore this meatball recipe we found in FamilyFun Magazine. Such a clever way to get spinach into foods kids love.
Ingredients
1 pound ground beef
1 pound ground turkey
1 pound ground pork
1 (10-ounce package) frozen chopped spinach, thawed, drained, and squeezed dry
1/2 cup finely grated Parmesan cheese
3 large eggs, beaten
2 tablespoons dried Italian herb seasoning
2 teaspoons salt
1 teaspoon red pepper flakes
1/2 cup fine or panko bread crumbs
Preparation
Preheat the oven to 400 degrees.
Coat 2 large, rimmed baking sheets with cooking spray.
In a large bowl, mix together all the ingredients until well combined. Don't overmix.
Pinch off about a teaspoon of the meat mixture and gently roll into a 1-inch ball. Repeat.
Arrange the balls 1/2 inch apart on the baking sheets.
Bake the meatballs until lightly browned and cooked through, 20 to 25 minutes.