Do you have a tween at home that has gone through the phase of wanting to add colored streaks to their hair? My daughters have long brown hair and are fascinated with brightly colored streaks of hair - since we have taken the 'dying' their hair discussion off the table for now - we decided to try this out as a fun alternative. Check out the bright colors of hot huez brand chalk for darker hair.
Confession - Yes, this is a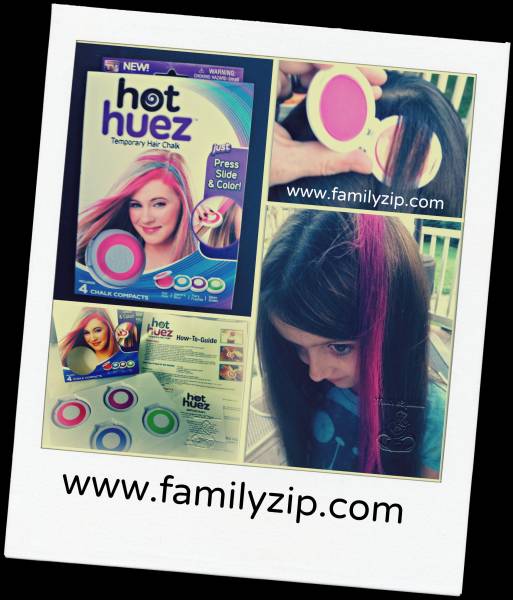 'As Seen On TV' product! I found it at my local CVS store in that designated area.
Application Process
This chalk is very vibrant. Hair should be free of additional styling products - however have some spray leave in conditioner available - you will need this to PRIME the hair strands - this gives the color something to cling to and if I had to guess it protects the hair too.
Step 1
Select a small section of hair and place the hair ON TOP of the sponge part of the compact, closing the compact on the hair section and gently squeeze and bring the compact to the bottom of the hair.
Step 2
Set the color - using hairspray spray, spray the color streak, this will keep the color intact on the hair and keep it from getting on your clothes, hands, etc.
Key Takeaways
The color was faded after a day of brushing and styling and easily washed out.
This product was fun and easy to use - the colors would be VERY BRIGHT on lighter colored hair - but we were happy with the results on dark hair, it works!
This would be a fun activity for a sleep over or a home 'spa day'.
Warning
This stuff will get everywhere if it is not handled carefully! It is a 'chalk' but resembles a pressed powder and can flake and crumble. There is a sheet inside package spelling out precautions when using the product. Once we read this we moved the activity outside.
It wasn't too messy - I did end up with some on my hands but it washed off easily. I should have put a towel around my daughters neck like a cape.