Thanksgiving is a special time to give thanks for our blessings. Often we want to connect with our family and friends in a meaningful way, but don't know exactly how.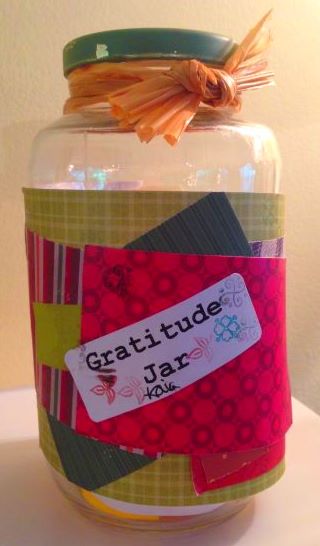 Gratitude Jars are a wonderful way to communicate what we are thankful for.
A rich, new tradition can be started by creating a simple Gratitude Jar. Family and friends fill in slips of paper with messages about what they are thankful for and drop it in a jar.
Messages about gratitude are as individual as the person writing it! From a small child expressing gratitude for a pet or toy, to an older adult writing a deeper message to be conveyed to family and friends. Each message will touch your heart, and affirm family bonds.
What you will need:
A clean jar, with lid of any size you prefer.
Paper, rub on decals or any other decorations to add to the outside of the jar.
Pretty Ribbon or Raffia to dress up the neck of the jar.
Spray Paint/Paint lid of the jar to match decorations.
Small slips of paper for writing messages.
Glue.
Pen.
Decorate your Gratitude Jar to your liking. Glue on the decorative paper, paint the lid and tie the ribbon around the neck of the jar.
Let's Get Started with Family Memories!
Place jar in a central location in your home.
Place paper strips and pencil next to the Gratitude Jar.
Invite family members and guests to write what they're grateful for on a piece of paper and insert in the jar. Do this as many times as desired.
Read the tiny messages at Thanksgiving Dinner or whenever the family is together.
A simple Gratitude Jar can be a whole new family tradition in your home this holiday season. From the youngest family member to the oldest, everyone will enjoy this wonderful activity.
Need further help getting started? We found a Premade Thanksgiving Grateful Jar Printable for you to try.