Kelkenberg Farm of Clarence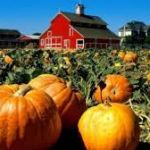 Activity Overview
Kelkenberg Farm of Clarence is a real livestock and horse farm that is open to tours and visits from last 30 years. The farm is named after the farm owners, Charles and Faith Kelkenberg. It is a family run business, and the objective of the owners is to help people learn about agriculture and farm life, especially children. Families can have a great time at the livestock farm, many activities are offered for the kids, including sleigh rides, hay rides, pumpkin picking, petting farm animals and so much more.
Things to Do
Farm tour is the best way to learn about different farm animals, kids will enjoy lots of fun activities, such as, milking a goat, looking for eggs in the nesting box, brushing a pony, petting the calves, meeting new born baby animals in the spring, viewing antique and new carriages and sleighs.
Fall pumpkin fun is an exciting activity for the whole family, children can enjoy hayrides, pony rides, straw maze, pumpkin picking, corn grinding, and goodies to purchase, including pumpkins, cornstalks, apples, ciders, squash and baked goods.
Celebrate your child's birthday party in a unique farm setting with sleigh rides, pony rides, reserved picnic area, gas grill and bonfire facility, and the birthday kid will get to make his or her own cowboy lasso and jump rope.
Kids would love visiting the petting zoo, petting zoo animals are miniature horse, donkey, goat, sheep, calf, rabbit and chickens.
Young Farmer's program at the Kelkenberg farm is for children 5-10 years of age, where children can get to spend time with farm animals and learn more about agriculture and farm life.
Kelkenberg Farm of Clarence Insider Tips
Group tours may require reservation.

Reviews
Sign Up - Family Fun Newsletter
Have fun with great ideas on things to do for travel, daytrips, nearby, or at home...