Kentucky Down Under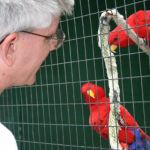 Activity Overview
Kentucky Down Under is an exciting family attraction located in Horse Cave, Kentucky, which is less than two hours away from Lexington by car. It features the Adventure Zoo, which is home to animals such as kangaroos, dingoes, and lemurs, and Mammoth Onyx Cave, one of the most easily accessible caves in the United States. Visitors are welcome to explore the zoo and take a tour of the beautiful underground caves as well as visit attractions such as the Bird Garden, the Woolshed, the Snowy River Air Gun Shooting Range, and do activities like gem mining.
Things to Do
Visit the Adventure Zoo! It is home to dozens of fascinating animals, including bison, foxes, dingoes, kookaburras, lemurs, kangaroos, emus, cavies, servals, and llamas.
Head to the Land of Lories, a huge enclosure full of beautiful lorikeets. You can even feed them nectar!
Stop by the Woolshed to learn all about sheep, milk a cow, watch border collies herd a flock of sheep, and feed the adorable lambs.
Take the 30-minute tour of Mammoth Onyx Cave and enjoy the sight of its spectacular onyx formations, stalactites, and stalagmites.
Kentucky Down Under Insider Tips
Make sure to save some time to explore the Outback Walkabout exhibit, which allows you to meet kangaroos, emus, and other Australian animals up close.
Check out the gift shop before you head home - it's full of great souvenirs, including stuffed animals, clothing, and jewelry.
Don't forget to stop by the Fudge Factory, where you can sample Kentucky Down Under's delicious homemade fudge!

Reviews
Sign Up - Family Fun Newsletter
Have fun with great ideas on things to do for travel, daytrips, nearby, or at home...