Kiddie Park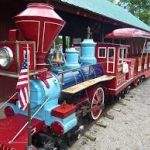 Activity Overview
Kiddie park in Bartlesville, Oklahoma is a fun place for kids, the park is more than 60 years old, but is really popular among children and families due to a nice family environment and fun rides. Admission to the park is free, it is located adjacent to the Johnstone park, and the park is open only during the summer months. The park features 18 rides and the tickets are very inexpensive when compared to other amusement parks.
Things to Do
Kiddie park features many rides, and each ticket costs just 50 cents, there are bumper cars, bi planes, a pirate ship, carousal, boats, train ride, roller coaster, swings, merry go round, sky rockets, yellow submarine, Ferris wheel, and much more.
Last train ride of the day is free, adults can ride the train with their children, and rides can be enjoyed by children of all ages.
Food stand has numerous food options, including ice creams, popcorn, nachos and candies, picnic tables are also available.
Reserve the birthday zone and have your kid's birthday party at the kiddie park.
You can visit the adjacent Johnstone park for tennis courts, skate park, and playground.
Kiddie Park Insider Tips
Only Cash is accepted.
Help in maintaining the park by donating.
Pets are not allowed.

Reviews
Sign Up - Family Fun Newsletter
Have fun with great ideas on things to do for travel, daytrips, nearby, or at home...