Leach Botanical Gardens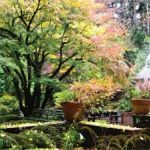 Activity Overview
Leach botanical garden is spread across 17 acres, it houses a unique botanical collection since its inception, almost 30 years ago. The gardening expeditions were started by John and Lilla Leach, back in the 1930's. The garden houses a native plant collection that is unique to Oregon, in a tranquil and blissful setting. The historic collection of plants includes Kalmiopsis Leachiana, and many ferns and a Camellia collection.
Things to Do
Explore unique and colorful flora that is native to Oregon, historic plants and flowers, provides education, and lets you unwind in a natural environment of a truly secret garden.
The botanical library at the garden stocks 1,100 books, the books are based on gardening, horticulture and Botany.
There are special paths and trails for strolling and jogging, enjoy the extensive plant collection that can't be found elsewhere. Weekly guided tours are available.
The gardens not only display flora, but there are a variety of animals to see, deer, rabbits, squirrels, humming birds and butterflies can easily be spotted.
An event is celebrated at the garden, the honeybee hike, an enjoyable hike where the walkers would get to see the gardens, wildlife, visit the bees, make a craft item, and much more. It is a weekly occurring event. Children can take part in it.
Explore a variety of mushrooms in the region at the Mushrooms of leach botanical garden event. Learn some handy harvesting and cooking advice.
An annual holiday Bazaar in December celebrates freshly made swags, wreaths, baked goods, and artists expert in glass, ceramic and fabric work.
Buy exclusive merchandise at the gift shop that includes gardening tools, hand crafted goat milk soaps, glass work, honey, teas, and plants.
The historical manor house and the garden can be reserved for weddings.
Leach botanical Gardens Insider Tips
Pets are not allowed.
Don't forget to send in donations to the garden.

Reviews
Sign Up - Family Fun Newsletter
Have fun with great ideas on things to do for travel, daytrips, nearby, or at home...