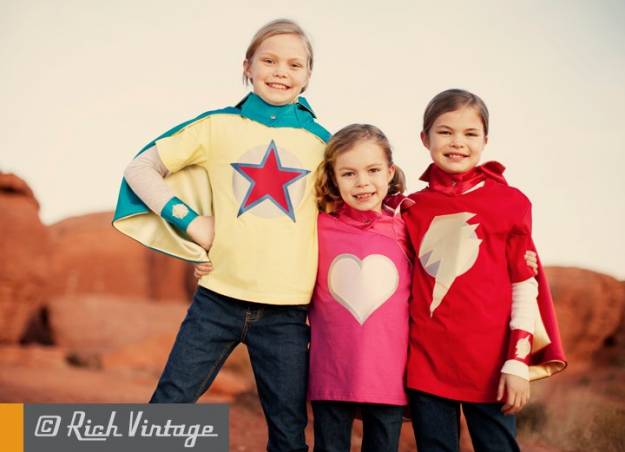 Little Hero Capes are so cool. When I first saw these super hero capes I seriously wanted one for myself and my tween daughters. But these capes are for the younger hero's in our lives!
Little Hero Capes are so colorful and exude a playfulness that you just want to spring into action and save the world!
Handmade by Allison Faunce, these capes empower imagination in kids and give them an amazing outfit to put forth their creativity in a fun way.
A few years ago, I had the good fortune of meeting Allison at a Boston art show, she is one of the most passionate woman I have ever met and her steadfast desire to make her business thrive is inspiring. She simply adores what she does and she's great at it.
Little Hero Product Line
Little Hero Capes: A huge selection of colors, styles and embellishment for boys and girls.
Little Hero Gear: Power cuffs and Little Hero masks.
Create a Cape: Customize your cape with colors you select and the cape will be made to your specifications.
Little Hero's Philanthropy
This company believes in giving back. It's a company you can really feel good about, and as a mom, it means a lot to me.
From the website, " Little Hero Capes allows you and your child to become real world heroes through each purchase. That is because with each purchase, 10% of the sale is donated directly to the Discovery Arts Program. This is a program that "brings music, art, dance and drama to children with cancer, serious blood disorders and life threatening illness while they are in the hospital receiving treatment. Furthermore, A Little Hero Courage Capes are available for purchase. This is a special line of capes that are delivered directly to the hospitalized child while they are undergoing treatment."