Magnolia Plantation & Gardens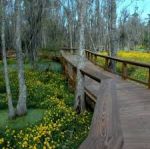 Activity Overview
Magnolia Plantation and gardens was founded in 1676 by the Drayton family, and was opened for public viewing in 1870. Magnolia is one of the oldest and historic gardens in America, honored as one of America's most beautiful gardens, this place is a popular tourist attraction. A heaven for nature lovers, and a variety of fun-filled activities make it a perfect place for a family day out.
Things to Do
The historic place has a spectacular collection of plants, flowers, birds and animals. The magnificent gardens let you explore nature. Most of the gardens are kept untamed, and many sections of the gardens are more than 325 years old.
Visit the Drayton family home and look back into the history of this place, a 30 to 45 minutes tour give an insight into the ten rooms of the house that are open for public viewing. View 19th century antiques, porcelain, quilts, and many other objects.
An adventurous tram tour is a perfect activity both for kids and adults to view nature, plantation, gardens, and wildlife up-close. Spot alligators and turtles in the lake and marshes. Enjoy Magnolia's natural beauty, and wildlife in an action-packed "Nature train tour".
The thrilling nature boat tour takes you to the old rice fields along the Ashley River. Enjoy the cool breeze and spot wildlife.
Children love petting zoos, kids can feed the animals at the nature center, including deer and pygmy goats. Animal exhibits feature gray fox, beaver, birds of prey, and many reptiles.
The peacock cafe offers a serene place under the oaks of Magnolia, where you can enjoy all types of snacks. Bottled water, coke, tea, coffee, juices, sandwiches, salads and candies are available for munching.
Explore a variety of birds in the "Bird walks tour".
Many seasonal events are held at the site, one such is "Family fright nights", the event features train rides, hay mountain, marsh mellows, contests and games for children.
Buy amazing and unique gifts for the family and friends at the gift shop.
Magnolia Plantation and gardens Insider Tips
On most tours, children under 6 can tour for free.
Enjoy the most of the gardens in the spring and summer.

Reviews
Sign Up - Family Fun Newsletter
Have fun with great ideas on things to do for travel, daytrips, nearby, or at home...