Michigan Avenue - the Magnificent Mile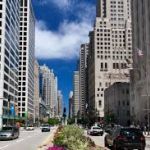 Activity Overview
The Magnificent Mile is a grand boulevard that is dubbed as a shopper's paradise, it has exclusive shops, restaurants, hotels and museums. The northern part of the Michigan avenue in Chicago is dubbed as the magnificent mile, the name was trademarked in 2001. The northern avenue is home to many historic landmarks and museums, making it a perfect tourist spot, and a likely family destination.
Things to Do
The magnificent mile has so much to offer for the visiting families, shop from some of the biggest names like Disney, Apple, Niketown, Nordstrom, Macy's, Blooming Dales and Saks Fifth Avenue. The side-walks are wide and well-maintained.
You can find exclusive designer labels at the Magnificent Mile, including Burberry, Bulgari, Micheal Kors, Gucci, Chanel, Ralph Lauren and many more. There is affordable variety by H&M and forever 21.
See the historic old water tower, it was built in 1869 and has a castle-like architecture. The avenue has remarkable and beautiful landmarks including Michigan Avenue bridge that was built in 1920, the Wrigley building, the Tribune tower, and the Allerton hotel were all built in the early 20th century.
There are some magnificent and tall sky scrapers in the Michigan Avenue for sight seeing, the John Hancock center, the water tower place having many shops, theaters and restaurants, and the Park Tower.
The water tower place has a doll store, American girl place, the LEGO store and a candy museum, Candyality.
Plenty of restaurants to have a delicious meal at, M Burger, Food life and Food ease, for snacks visit Garret popcorn shops and Hershey's Chicago.
The Magnificent Mile hosts a spectacular Holiday event in November "The magnificent mile lights festival" and a summer event, "the magnificent mile shopping festival".
The Magnificent Mile Insider Tips
Layer up, it might get chilly and windy in the evening.
Wear good walking shoes.

Reviews
Sign Up - Family Fun Newsletter
Have fun with great ideas on things to do for travel, daytrips, nearby, or at home...